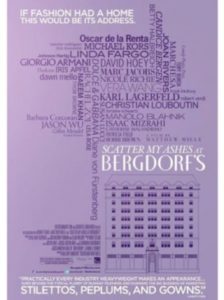 As a proud promotional partner, 303 Magazine is proud to present a SPECIAL ADVANCE SCREENING of SCATTER MY ASHES AT BERGDORF'S.
It's the most mythic of all American emporiums – and the scene of many an ultimate fashion fantasy. Now audiences get a rarified chance to peek behind the backroom doors and into the reality of the fascinating inner workings and fabulous untold stories from Bergdorf Goodman's iconic history in Matthew Miele's Scatter My Ashes at Bergdorf's. The legend, the parties, the fashion idols, the windows, the women, the buyers and shoppers — and most of all, the quintessentially American dreams of New York's high-fashion hot-spot – all come to life in an ode to a realm where creativity and commerce reign equally supreme. With a light touch, Miele explores not just the glamour but the passion behind the daily creation of this luxury mecca in a film as dynamic, lush and intimate as the store itself.
ENTER FOR YOUR CHANCE TO WIN TICKETS
As a token of our appreciation for the support of our readers, we are offering a chance for you to win tickets to this special screening by entering contests through our Facebook and Instagram (@303magazine) pages. Check them out for details.
EVENT DETAILS
Special Advance Screening of SCATTER MY ASHES AT BERGDORF'S
WHEN: Thursday – May 23, 2013
WHERE: Sie Film Center
TIME: 7:00pm
***Reception to Follow – Cocktails, Hors d'oeuvres and a Fashion Show

www.bergdorf-movie.com
#GetScattered
Facebook.com/ScatterMyAshesAtBergdorfs