Apparently, you can judge a book by its cover, and that cover is a whole lot prettier if it's been sucked and tucked. A recent survey commissioned by website vouchercodespro.co.uk asked over 1200 British men about whether they wished their partner would have plastic surgery. A quarter of the male respondents agreed that their significant other's looks would improve if they went under the knife. Only a small number, just 12 percent of men would actually confess to their partners that they thought they should see a surgeon.
57 percent of the men believed their lady love could benefit from a little liposuction, while breast enlargement came in second, with 49 percent of the vote. In terms of facial procedures, men placed high importance on their partner's pearly whites, with 42 percent of men saying they wanted their partner to have dental surgery, followed by nose reshaping and botox.
While the majority of men, 75 percent, were happy with their partner's looks, body contouring and facial procedures still remain popular for women seeking to up their attractive ante. Interestingly enough, a study conducted in 2007 found that British women were more likely than American women to have plastic surgery to please their partners, whereas women in the U.S. were motivated to Barbie-icize for themselves.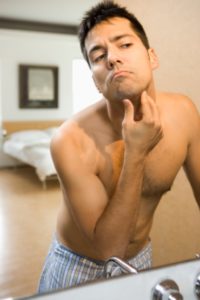 But women aren't the only ones aspiring for Gwyneth Paltrow's taut thighs or Katy Perry's bouncy breasts, Boston Magazine reported in March of this year that men are getting more cosmetic surgery procedures than ever before. According to Dr. Yaremchuk, a Massachusetts based doctor, men represent 30 percent of his patients getting regenerative procedures like eye lifts and face lifts, while almost half his patients choose structural revisions like chin implants (see: Brad Pitt's strong defined chin). Most men are seeking the scalpel for the same reasons as women, with the majority requesting rhinoplasty, eyelid surgery and liposuction.
Dr. Yaremchuk has seen another phenomenon: couples plastic surgery. In fact, the Los Angeles Times reported last year that the new trend is couples plastic surgery, with women typically taking the lead and getting work done while the men follow with his own procedure. A surgery date night might be the new dinner and a movie. Enjoy the company of your sweetheart and skip the fat-laden movie popcorn all while ending in a little less beer gut or muffin top? Sounds like a win-win.