Ricardo Ruiz has brought the real Jalisko, Mexico to Denver! 100% de Agave opened quietly at 975 Lincoln St. on March 8th, 2013. Co-owners Mr. Ruiz and his brother, both decorated with Masters in Architecture, have totally transformed the restaurant, most recently known as Japoix, into and upscale Mexican restaurant with affordable prices.
Without hesitation, first thing you should do when you sit down for a meal at 100% de Agave, is order the table side guacamole. The wait staff will bring over a tray full of guac goodies like amazingly fresh avocados, diced tomatoes, cilantro and onions. The mixing of the guacamole will happen right in front of you leaving you wondering what makes this guacamole so incredibly good? Well, they have a special seasoning; which adds the all the secret goodness. This starter is served with house made tortilla chips.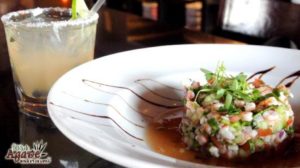 Fresh is the word I will use to describe the Mango Shrimp Ceviche. I could tell all the healthy vegetables were recently cut and served cold. Cucumber, cilantro, red onions, tomatoes and mango shrimp are just a few of the remarkable veggies that make up this ceviche. Normally Ceviche is not served with any special sauce so it is a must that you try the mango flavoring!
The Molcajete Caliente has turned out to be one of the best sellers on the menu, and now I know why. This authentic entrée places grilled steak marinated in Mexican spices on top of a melted Oaxaca cheese, chorizo and cacti base. Beware: this dish does pack a spicy punch but the spice doesn't take away from the taste.
For dessert go for the churros! The freshly made dough strips are fried, topped with cinnamon and sugar and served on a plate with house made, real, delightful whipped cream. Take your churro for a dip in the chocolate sauce it's served with, you'll taste the little kick of tequila!
Happy hour is offered twice a day at 100% de Agave! You can enjoy any drink you would like 2 for 1 and $5.00 appitizers from 3:00pm until 6:00pm and 9:00pm until close. You also have your choice of sitting in the huge bar area filled with TV's or sitting outside on the patio.
Mr.Ruiz, whose parents are from Jaliko, Mexico, is passionate about bringing true, authentic flavors to all the dishes available on the menu. If it's Mexican food you want, you will definitely get it here.
100% de Agave
975 Lincoln St Denver, CO 80203
Free Parking Available in Garage
Phone: (303) 731-1100