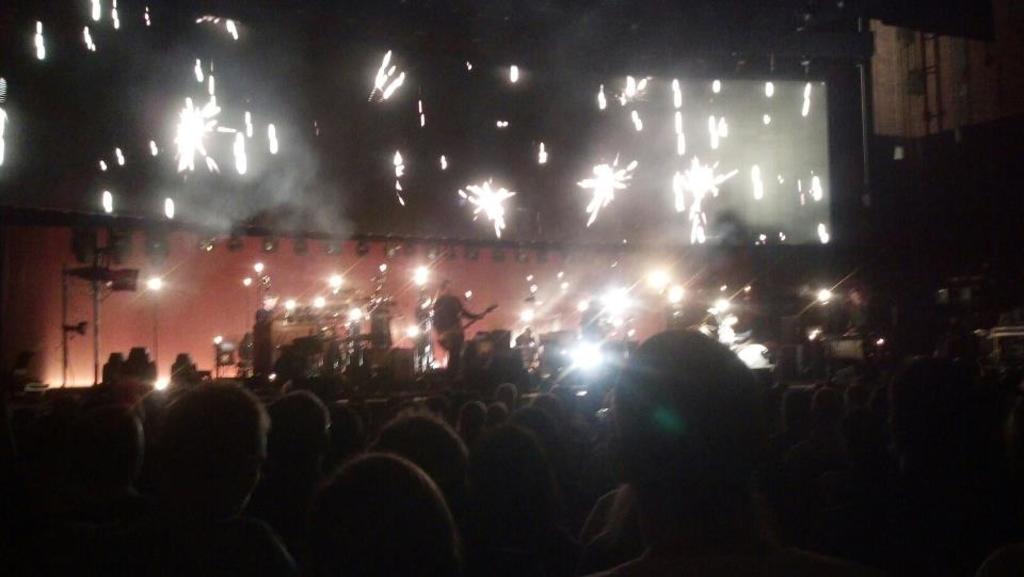 Imagine sparklers and unicorns on a space beach, while shooting stars fall out of the sky. That's Sigur Rós. That's the half-blind, pixie-voiced frontman Jónsi Birgisson and his fleet of Icelandic musicians off a magical pirate ship. Last night's performance at the 1st Bank Center cast a silent, collective spell over a crowd of thousands. The air was charged with poetic pause, as the avant-garde musicians played in a subtle, elegant manner. Strangely, the experience was like enjoying the tranquil beauty of solitude alongside a sea of other people.
Cliche as it may sound, the sprawling Sigur Rós soundscape becomes cinematic to your own experience. The mood, tone and interpretation is entirely subjective. Your life becomes the movie. The music is the frame, you create the painting. The visual installation of lights and imagery behind the musicians served as an apéritif to each minimalist composition. The band played "Hoppípolla," "E-Bow," "Fljótavík," and "Festival" adding a lovely violin and trumpet section, as well.
It's difficult to properly detail the nuances and sonic luminosity that is Sigur Rós. Luckily, they created their own vernacular. The band commonly plays songs in "Hopelandic," a language that uses melodies and rhythms without the conceptual content of language. The focus is on sounds, rather than grammar. Meaning over words. This band has their own language. It really just doesn't get any cooler than that. Sigur Rós will debut new album Kveikur, June 17/18.