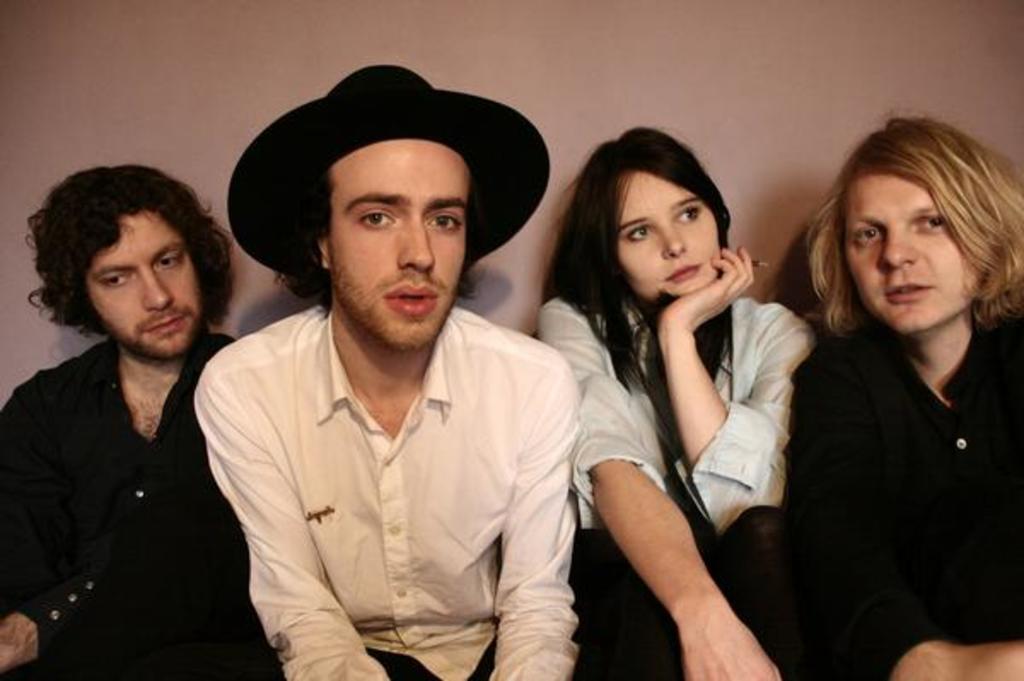 Recently we caught up with The Veils frontman, Finn Andrews (The Veils are a London-based band that have lived in a classic car garage and recorded at The Flaming Lips' studio, amongst other things). Andrews is known for putting on fairly chaotic, possessed-style shows. This sweet, poetic fellow kindly phoned in from atop a mountain in Utah. Check out The Veils tonight at Larimer Lounge, tickets here.
So y'all are in the desert right now? How's it going?
Yeah. We're in Devil's Canyon, Utah. Just a bunch of English people staring out of windows with their jaws dropped, looking at the scenery.
What was it like growing up in the New Zealand folk scene?
We lived in this little town. There was a folk club that was up one of the volcanoes there, and once a month, they had open mic nights. It was one of the places where you'd hear people from all over the world play. There was a storytelling aspect to it. So yeah, that's where the band started.
It's been four years since your last record. Can you talk a little about the new record, Time Stays, We Go?
More like three years. Adam Greenspan (producer for Arcade Fire, Divine Fits) was the engineer and we worked with Nick Launey, (producer for Kate Bush, Yeah Yeah Yeahs) who came highly recommended. It was great! We tried to have as much control over this one, as much as possible.
You've said something along the lines of "liking music that has as much joy as it has sadness," and that "writing about the dark stuff is good, as there's a joy there too." I listened to The Beach Boys after reading that, and your take definitely came to mind. Can you speak more to that philosophy?
Yes. I mean The Beach Boys are a great example, I think. Very melancholy and summery.  "God Only Knows," is sort of all these things. I think it's a complicated thing, music, it is has an enormous capacity as far as the complexities. I mean, pop music is so simple. Deceptively simple. I've always loved music that had all these things going on. It's somewhat manipulative if you have just a really sad song or just a really happy song. You should take advantage of the amount you can show in music. Surprising, conflicting feelings. It's all conflict, I think. That's where the good stuff is.
What would you do if you weren't a musician?
I don't know. It really hasn't crossed my mind. I think I'd write something. I think in a way that kind of life would suit me better. I could lock myself away and write things. It's kind of what I like the most, really. It's great to be touring again. I think I'd miss that too much. I can only stand being locked away for too long. It's great to make a record. So, I don't know really.
Favorite venue?
In Amsterdam, it was one of the first big shows we got to do. At the Paradiso. I was 18, I think. That stayed very special to us. I got to see Diana Ross when I was about 8 years old. My mum was a cook and she was Diana Ross's cook. And that was probably still my favorite. She was great.
Drink of choice?
Whiskey's good. I think you need whiskey and water. Those two things are good. Not together, but I think yeah. Those two. W's.
Listening to?
The new Kurt Vile record. I'd seen the band just before and really enjoying them. We got this James Brown box set and been playing a lot of that.
Currently reading?
I'm reading a book by Nick Tosches. I've only just started it. He wrote that great book on Jerry Lee Lewis called Hellfire. I read it the last time we were on tour, so it seemed appropriate.
Looking forward to?
We're having such an amazing time on tour. We've been in London for the couple of years and it's just…watching the landscape really change and transforming into the earth. It's like we're on Mars or something and it's amazing. I think we're really taking it one show on the time. We're really looking forward to you guys and then going up to Minneapolis and Canada and up the east coast. It's all such an adventure at the moment, it's great.
Why do all the musicians get the girls?
Well, all the girls or all the boys! I don't know. I think people don't really want to get to close to musicians, they just really like the kind of surface idea of it. I don't know. It's something about people being on stage. It's kind of alluring, I guess.
Advice?
You've got a lot of neon-colored food in America. I've noticed that. It's not really advice but we did decide we are going to stop eating so much neon food.