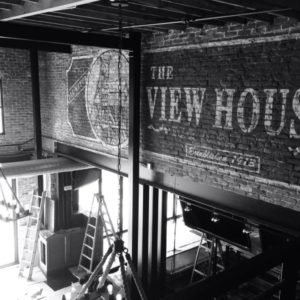 Mori Sushi Bar is long gone. In the same place stands the newly opened ViewHouse Eatery, Bar & Rooftop located on the high traffic corner of 20th and Market. Almost unrecognizable, the completely remodeled space is now home to two state of the art bars, plenty of loft like eating space, a DJ station sitting high above the crowd and one amazing rooftop.  As if that's not enough, just outside the garage door walls, ViewHouse will install a grass filled patio which will host volleyball and other games.
The grand opening media party held Thursday March 14th allowed all guests to sample the much-anticipated food and drink menu. When I arrived, the first person I saw was Executive Chef, Jose Guerrero, also well-known chef at downtown Denver's restaurant and discotheque, Chloe. Having dined at Chloe many times, I was excited to learn that Jose helped develop and create the menu for the restaurant. Jose's creative meals and pure professionalism never disappoint, and this experience was no different.
Watch out Roscoe's Chicken and Waffles!  The Chicken + Waffle dish now served at ViewHouse gives you a run for your money. Though quite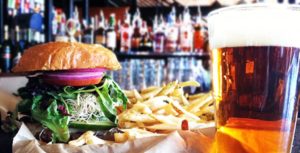 different, it is mighty delicious. Placed between two homemade buttery waffles, smothered in Stranahans syrup, lays a juicy deep-fried, well seasoned chicken thigh coupled with lemon tossed wild arugula. Wow!
Another sheer delight is the Smoky Slider, which lives on the starter menu but definitely serves as a meal. The slow cooked Bar-B-Que brisket is layered with a slice of onion ring and b+b pickles placed on a hot and steamy pretzel bun.
For all you hot link lovers you must try the Sonoran Dog. Using only the highest quality meat, supplied by a local company, this rather tasty hot link, wrapped in smoked bacon and topped with pico de gallo, guacamole and an array of other toppings is a sheer delight!
"The Million Dollar View," a strong and tasty drink, also describes the fabulous view from the rooftop. Corzo Tequila, Cointreau and fresh lime juice, qualifies this special concoction as a "skinny" drink and as the bar tender explained to me a "one and done" drink. . . And she was right!
With all ViewHouse has to offer, I'm predicting this new addition to LoDo will be a great success.
ViewHouse
2015 Market Street. Denver, CO
720.878.2015
viewhouseco.com