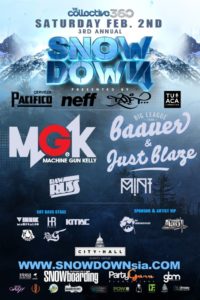 The 42nd Annual SIA Snow Show is in full swing at the Colorado Convention Center, and any local will attest that with SIA comes numerous after parties. Scattered across downtown, the Golden Triangle and RiNo, these after parties feature industry and drink sponsors, live music by big-name artists, and are the premiere nightlife destination for the nearly 20,000 attendees at this year's Snow Show. While many parties require Snow Show badges and are closed to the public, SNOWDOWN SIA continues to be the largest, most-buzzed about SIA after party that attracts both the public and snow sports industry. This year, SNOWDOWN SIA will be held at City Hall Amphitheater and features headliners Baauer, Just Blaze, and Machine Gun Kelly. Several local artists are slated to perform, as well, including hip-hop artist Pries, Raw Russ of Elm and Oak, and Vinnie Maniscalco of Got Bass.
In its third year, SNOWDOWN SIA has a history of bringing hard-hitting talent to Denver during SIA, including Lloyd Banks, Twista, Dilated Peoples and Z-Trip. This year, Denver-based event producers The Collective 360 and AnyaGrind, Inc. have teamed up to introduce more electronic acts to the hip-hop focused event. Rising trap producer and one of MTV's "Artists to Watch in 2013," Baauer, will headline SNOWDOWN SIA as part of his Big League tour with hip-hop producer, Just Blaze (Kendrick Lamar, Kanye West), who will also perform. Gavin Beldt, partner at The Collective 360, says the decision to bring Baauer was an easy one, given the producer's rising popularity.
"We wanted a lineup that was fresher than it has been in the past," Beldt says. "In previous years, we've booked big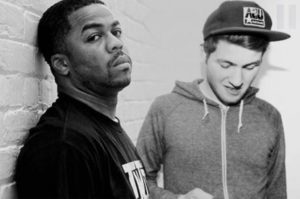 names in hip-hop, but we wanted to bring newer talent that would allow Denver's love for EDM and hip-hop to converge. Baauer's sound combines the two, and he has been great to work with so far."
Red Bull's Mobile DJ Truck will also be on site, along with free beer for VIP patrons, courtesy of Pacifico. Industry sponsors, including Neff, will be giving away free merchandise throughout the night, as well. SNOWDOWN SIA's sponsor partnerships echo the spirit of bringing Denver locals and SIA attendees together to celebrate the snow sports industry.
"SNOWDOWN SIA unites snow sport industry members from around the country with the action sport community of Denver," Ben Martch, partner at The Collective 360, says. "It is a beautiful combination. For the past three years, people have come to SNOWDOWN SIA and had a great time, regardless if they ski, snowboard or are just party-goers and music-lovers."
While SNOWDOWN SIA serves as the premier SIA after party open to the public, it is also a fundraiser for Protect Our Winters, thanks to The Riders Project, an online retailer that sells action sport products and donates 100% of its proceeds to charity. Protect Our Winters is an organization committed to engaging and mobilizing the winter sports community in the fight against climate change. For Martch, the combination of philanthropy, community and talent is what makes SNOWDOWN SIA standout.
"I am so stoked to see all of our headliners perform. Machine Gun Kelly is going to get super wild on the stage, Baauer is about to make the whole building jump, and Just Blaze is a straight up legend in the hip-hop world," Martch says. "I love that we are able to provide entertainment for Denver locals and visitors while contributing to a good cause."
—
SNOWDOWN SIA kicks off tomorrow night, Saturday, February 2, 2013 at City Hall Amphitheater. Doors open at 8 p.m. Show starts at 9 p.m.