The buzz from Beyonce's Superbowl halftime show was electric–not only for the pyrotechnics, Destiny's Child cameo and ultra sexy black leather leotard outfits, but also for the hand signal Miss B flashed mid-performance. The sign her fingers made was the shape of a diamond. Immediately, the blogosphere, Twitter and various news outlets exploded with rumors about the secretive sign. The most likely explanation? The hand triangle actually represents Roc-A-Fella records, the label that Jay-Z – Beyonce's husband – owns. Beyonce's love shout-out is not uncommon in the celebrity world, where fame often rests on intrigue over relationships, love affairs and dating rumors.
Do other celebrities participate in secret relationship rituals both in public and private? Yes.
Rita Wilson says her husband Tom Hanks leaves her sweet love notes by her phone or coffeemaker and sends her phone pictures throughout the day. Bling is best for Lea Michele, who often sports her gold monogrammed Cory necklace for love and Glee co-star Cory Monteith. Megan Fox knows the way to a guy's heart is through the TV: she TIVOs things she knows hubby Brian Austin Green would enjoy. And David Beckham and Victoria Beckham like a sweet sweat and enjoy working out together.
Other celebrities enjoy significant showmanship when it comes to declaring their love for their paramore. Perhaps not a regular ritual but an ongoing declaration nonetheless, Avril Lavigne and Brody Jenner each have tattoos of each other's names as well as matching lightning bolt tattoos. (Lavigne's Brody tattoo is on her chest, her name is on his forearm.)  And though it doesn't count as a ritual, it does count as a major love move when Justin Bieber rented out the Staples Center in L.A. to screen a private showing of Titanic for girlfriend Selena Gomez. Well played, Biebs. Well played.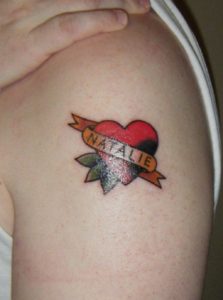 Tips to Ritualize Your Romance:
1.) Have a loving greeting/good-bye for each other
2.) Use pet names to make each other feel special (especially in communications like email and texts)
3.) Connect with technology: send an e-card, emoticon or email
4.) If they leave or go on a trip, put a surprise note/gift in their luggage
5.) Compliment your partner and surprise them with gifts like flowers, candy and other goodies