With below freezing temperatures and snow in the forecast, a dose of springtime may be just what the doctor ordered for your monotonous winter blues, and the 54th  annual Colorado Garden & Home Show offers up a cure.
Held at the Colorado Convention Center from Feb. 9-17, the annual home improvement show (www.GardeningColorado.com) is the largest of its kind west of the Mississippi.
The 400,000 square foot space boasts more than 700 local companies represented by 1,400 booths designed to awe, entertain and inspire with the latest home technologies, products and trends.
"Getting to the show takes a year of planning and more than 30,000 man-hours from 3,000 workers including exhibiting companies and landscaping contractors who build the show's gardens and exhibits."

— Jim Fricke, Executive Director of Colorado Garden Show, Inc.
Walking into the entrance off the frosty concrete jungle of downtown 14th Street, a delightful floral perfume greets visitors – of 15,000 flowers, 200 blooming trees and 500 shrubs making up 14 intricately designed display gardens sure to please the ache for springtime.
Besides the flora eye candy, home improvement experts and gardening gurus await you to answer questions (like 'What's my Sleep Number?') and spark inspiration for your abode.
WHO CAN ATTEND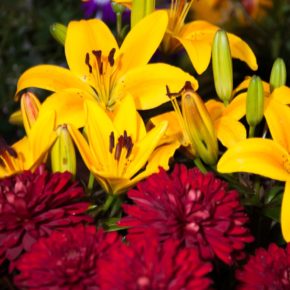 No need to be a "Tim The Tool Man" Taylor to visit. The event has something for the seasoned green thumb to the wannabe Martha Stewart to the curious apartment renter. The show is open to the public. General admission costs $12, while children under 12 are free.
And the money goes to a worthy cause. All proceeds go the Colorado horticultural community for grants and scholarships. To date, the Colorado Garden Show, Inc., has donated $5.5 million.
WHAT THEY OFFER
Get plugged in to the latest and greatest in home interior design and improvement and be the envy of your block with new technologies and trends in:
SOUND SYSTEMS
SPAS
GREENHOUSES
LANDSCAPING
GARDENING
FIREPLACES
LIGHTING
WINDOW TREATMENTS
AND MORE…
Besides perusing the booths, sit in on one of 53 seminars and how-to demos like "Six Secrets Every Designer Knows That You Don't.
When I attended the show this past Saturday, I was on the hunt for the unexpected. My photographer and I happened upon the beautiful, transfixing and maybe even a little bizarre.
We appreciated a sample of hand-painted sink bowls covered in precious metals from the Granite Depot, pinpointed our Sleep Numbers, and learned about how Namasté Solar's photovoltaic cells can harness the power of the sun.
Pausing a moment, we appreciated the beauty of outdoor sculptures pairing nature and art from the Masters Gallery, warmed up next to Colorado Hearth & Home's out-of-the-ordinary fire pits, and admired Designer Palms' life-sized stainless steel and copper palm trees.
Other highlights included 9News Hot Product, JM Kitchen & Bath's cabinets and countertops made from Urban Wood. Urban Wood is wood derived from trees that have grown in an urban setting and have been chopped down due to storm blow-downs, natural damage or development.
Perhaps the booth that blew us away was the custom cabinetry and woodworking from The Artisan Shop. Using rustic wood from around the world, even putting Colorado's own reclaimed beetle-kill pine to good use, The Artisan Shop creates custom wood projects that amaze with motorized pop-out cabinet doors, flat-screen T.V. slide outs and Bloom kitchen drawer hardware to stow every utensil you could imagine.
WHERE IS IT
The Colorado Garden & Home Show is held at the Colorado Convention Center (700 14th St.) on the second floor.
Parking is available on site for $12, or park at Coors Field for $5 and take a free shuttle to the center.
WHEN IS IT
The Colorado Garden & Home Show runs through Feb. 17. The show is open Monday through Friday noon to 8 p.m., Saturdays 10 a.m. to 8 p.m., and Sundays 10 a.m. to 6 p.m.
For more information visit www.GardeningColorado.com. Get inspired!
D.C.Y. (DO COUTURE YOURSELF)
Nab discounted tickets at all Tickets West Outlets located in King Soopers for $10 or bring a non-perishable food item for $2 off admission.
Feb. 11 admission is free for military and veterans.
Preview the exhibitors at www.GardeningColorado.com to make a list of your must-sees prior to your visit.
Give yourself ample time to walk through. To see everything could take up to a few hours!
Get a head start on your springtime planting. Attend the show's flower sale Feb. 13 for $2 per potted plant.