A trip to the salon can be a comprehensively relaxing experience when you combine a soothing atmosphere, comfortable furnishings and complete trust in your stylist. I found all three of these essentials during my visit to the newly relocated Gränd Salon. The de-stressing literally began in the salon's own parking lot when I realized I would not have to fight for a space on the street. I was further impressed upon entering the gorgeous new space. It is readily apparent how much thought and time the salon's owner, Shelly Rewinkle, her husband and team of employees put into the layout, material selection and design.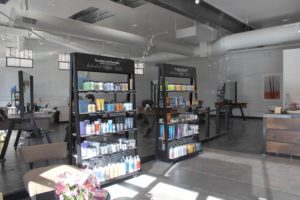 After searching for the perfect property for nearly two years, the two finally stumbled upon a 1960's blonde brick plant warehouse at 35th and Kalamath in LoHi-"an amazing 3700 sq. foot blank canvas" to design their dream salon.  Not that these two were new to the salon world, having operated their former location downtown on Wazee since 2004.
The contemporary design and gallery feel of the space shows off its openness, encompassed in natural light and inspired by natural materials. Gathering areas are situated so that guests can feel free to hang out or shop the works of local artisans, Colorado-made skin care or hair care products from the salon's retail shelves.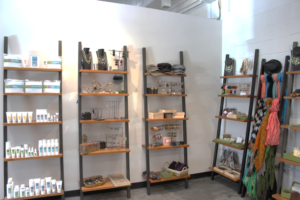 Shelly and her team, most of who have worked together for many years, wanted to create an inspired and functional work space and a place that guests would love to visit. The new  Gränd Salon has 21 skylights and garage door "walls" that roll back to let in the warm Colorado air, along with 12 styling stations, a three-seat blow-dry bar, manicure and pedicure stations and new shampoo bowls that allow clients to lay flat.
The lay down shampoo stations are my personal favorite. Prior to this week, I had never laid down to wash my hair. (I have since thought about attempting this at home but I just don't think my bathtub and lounge chair for the pool are going to come close enough) The shampoo station chairs are amazingly comfortable and the view is not of the ceiling as I had expected, but instead of the Colorado Sky. The bowls and accompanying chairs for the stylists are both ergonomically designed for comfort and stress relief. This normally forgettable part of getting your hair done becomes an experience not to miss at Gränd Salon – believed to be the only salon to have these lay down shampoo stations in Denver.
Salon design alone does not make a salon great, the people do. In addition to the fact that all the stylists, assistants and staff are skilled professionals as well as employees of the salon, Owner Shelly Rewinkle also shared about their commitment level to their guests. "We're not just saying it. We're doing it. From the moment you walk in the door until the moment you leave, your comfort is our only consideration. We've been known to feed your meter, grab you some lunch, and even run down the alley to the wine store for a last-minute hostess gift. And, can you say free wine, beer and cucumber water on top of legendary scalp massages? Yes you can."
I'm just wondering if I can drink wine while lying in the shampoo chair? Something to look forward to on my next visit!
Hours: Tues-Thurs 10am-8pm, Fri 9am-6pm, Sat 9am-5pm
P: 303.572.1435
E: [email protected]
3501 Kalamath Street, Denver, Colorado 80211
Visit www.grand-salon.com to learn more.