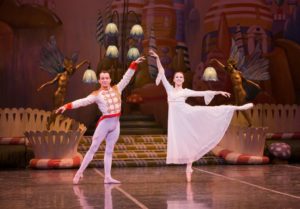 The Nutcracker Ballet is like your mom's meatloaf. A comfort food, a staple, and something you get burned out of after you've eaten leftovers of it for a week. Dancers in every company in the Denver area have probably performed every role in the ballet, and yes, that means cross-dressing, or morphing into a variety of bizarre characters/toys (who doesn't want to dress like a mutant rat and dance around with a plastic sword?)
You get the point.
We Denverites are lucky enough to have quite the selection of Nutcrackers to choose from. So, without further adieu, a taste-pairing aligned to the nutty feeling of the season.
If you're craving…
Something totally off the wall: Frequent Flier Products of Boulder, an aerial dance troupe, hosts their production, fondly called "The Ratcracker" this weekend, Friday and Saturday, at the Dairy Center for the Performing Arts. Tickets are $20-$25, and this intriguing version is certainly not yo' mama's Nutcracker.
Something just outside of Denver:  The Canyon Concert Ballet performs December 6-9 with the Fort Collins Symphony at Lincoln Center Performance Hall in Fort Collins. Tickets start at $20. If you're in the Greeley area, The Colorado Dance Theatre will delight at the Monfort Concert Hall for $22. For those south of Denver, Nutcracker of Parker is December 13-16 at the PACE Center, with tickets starting at $13.
Something modern: Dawson|Wallace (a contemporary ballet company based in Denver) will perform their rendition of the Nutcracker on December 7 in Englewood, and Dec. 15, 16, 21, 22, 23 in Lakewood. Ballet Nouveau Colorado will have an interactive experience, inviting children onstage after the performance to learn a few steps, this weekend and next, with both matinee and evening performances at the Performing Arts Complex at Pinnacle Charter School in Thornton.
The Granddaddy (Drosselmeyer?) of them all: Colorado Ballet is unbeatable. Yes, you should give the other Nutcrackers a try (why not catch a few of them?) but really, it's hard to beat the live orchestra, the experience of the Ellie Caulkins Opera House, the excitement of downtown Denver at Christmastime. The fake snow during the Snow Scene, the traditional choreography, the costumes, the sets, Clara flying away in the sleigh at the end of Act I – it's enough to give the Grinch chills. Colorado Ballet performs every weekend leading up to Christmas, with both evening and matinee performances, as well as Tuesday, Dec. 18 and Wednesday, Dec. 19, and a final matinee on Christmas Eve.
Whatever your choice, don't forget to stop by the Stalbaum's house on Christmas Eve in 1892 this holiday season. And please, dress for the ballet as you would any Christmas event. Apple bottom jeans look just as tacky at the Ellie as they do elsewhere in LoDo.