Temperatures were frigid Saturday night, as a snowflake-caked crowd celebrated Vail's 50th birthday weekend with an energetic act from world-class band, Wilco. The band ended their 15-month tour at the three-day Vail Snow Daze festival, playing for a crowd covered in head-to-toe layers. Denver's Nathaniel Rateliff opened the show.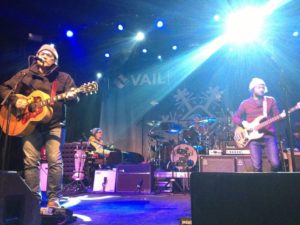 The band and the audience were in high spirits, as Tweedy peppered the night with banter. At one point, he asked if someone was cooking meat and countered that it was good it wasn't a Morrissey concert, or it would be over by now (referencing Morrissey's infamous walk off stage at Coachella, after smelling burgers cooking).
Crowd favorites included tracks from The Whole Love album, including: "I Might," "Art of Almost," and "Whole Love," as well as earlier stuff from Yankee Hotel Foxtrot and Summerteeth, such as "Heavy Metal Drummer," "A Shot in the Arm," and Woody Guthrie's "California Stars." Tweedy paid homage to both the folk hero and Coloradoans, changing the lyrics to "Colorado Stars" and swiftly changing them back again, to remain true to Guthrie's lyrics. Even so, it was a big winner to the crowd of outdoor enthusiasts under the snowy Colorado sky.  The band played vigorously, fighting numb fingers and the need to constantly tune instruments, due to conditions.
Guitarist Nels Cline shone during "Spiders (Kidsmoke)," as he jammed sans coat. Wilco closed with "I'm the Man Who Loves You," to the mass of bundled-up and dancing fans in Vail, in the intimate mountainous venue. Instead of seeking an encore, Tweedy remarked that they could play longer if they just stayed onstage, and happily played past their allotted 10 pm time slot.