In its annual Thanksgiving travel forecast released Tuesday, AAA predicts 43.6 million people will travel to holiday gatherings that are more than 50 miles away from their homes. Your skin is worried. Travel can be stressful on your body and on your skin with changing climates, altitudes, humidity and anxiety levels. If you are one of the 43.6 million who will be traveling, then you need to get prepared! Not only for the long lines, the traffic and the stress- you also need to prepare your skin for the unavoidable barrage of environmental conditions it will face. Whether you will be traveling by car or plane this holiday season, you can take some steps to keep your skin from turning on you.
On the way…
If you are flying, remember to carry on products that are 3 ounces or less and place them in clear, sealed plastic bags to make going through security a breeze. Most brands offer travel size options if the full size products are more than 3 ounces.
The air in the cabin of the plane can be dry, so hydrate well the night before your trip with an intense moisturizer.
Bring a lip balm and moisturizer with you on travel day and use as needed. I love Blistex Lip Medex, $1.59 – affordable and it works!
Skip foundation- especially on long flights where the length of time your makeup is on is longer than a normal day. You don't need a break-out showing up to greet family and friends that you haven't seen all year.
Bring facial cleansing wipes with you so you can keep oily skin under control and refresh during the trip. These cloths  should be mild so that you can eliminate oil and shine without stripping the skin's natural moisture.
Pay special attention to your eye area which can get puffy after a long trip. Take along an under eye cream that hydrates and contains anti-inflammatory ingredient to sooth irritation and reduce puffiness. Sephora instant depuffing roll-on gel is a good option- fun to use with instant results. $15.00.
Minimize the occurrence of break outs by keeping your hands away from your face. Traveling means increased exposure to bacteria and pollutants that can end up on your hands. Avoid transferring the bacteria to your face by either using a travel size antibacterial hand sanitizer or waiting until you can thoroughly wash your hands before applying products to your face.
Take your favorite cleanser with you. Your skin is accustomed to your daily cleanser and an abrupt change in products can cause over drying or breakouts.
If you are traveling out of the country it may be difficult to find the skin care products you are used to, so take them along in your checked bag. Make sure they are well packed inside of sealed plastic bags to prevent any leaks from spilling into your luggage.
Once you arrive…
Keep your skin care simple. After all, you are supposed to relax and enjoy the holidays, right? When travelling, you are exposing your skin to new climates with possible changes in temperature, sun exposure, wind and humidity. Even over a short period of time, these changes can have an impact on your skin health.
Cleanse twice daily with your normal cleanser, adjusting based on your skin's reaction to the new climate. For example, if your skin seems overly dry and you normally use an AHA cleanser, skip it and opt for water only. Avoid using hotel soaps and body washes which often contain fragrances and other chemicals that can irritate and dry out the skin.
Protect yourself with a SPF 30 sun block. Even if the sun is not shining, you are still exposed to damaging UV rays. Make sure your sun protection system contains a physical sun block ingredient-either zinc oxide or titanium dioxide- for broad spectrum protection. These ingredients block both UVB rays (those that burn you) and UVA rays (those that cause long term damage and premature aging). These sunblocks are worth the extra cost. Chemical sunscreens contain ingredients that work against one or the other type of UV rays, but not the full spectrum. Try Neutrogena Sensitive Skin Sunblock Lotion SPF 30, made with Titanium Dioxide, $8.99.
Keep your skin moisturized with a light, oil free formula that is easily absorbed. A serum made with a super hydrating ingredient like Hyaluronic Acid (Sodium Hyaluronate) and Vitamin B6 will replenish your skin and protect against moisture loss.
After a day in the dry air, visit the Spa for a hydrating mask treatment or take along a do-it-yourself hydration mask to remove build up, replenish moisture and sooth irritation.
Remember to re-pack the travel items you used on the way to your vacation when you head home. Even if you are not looking forward to getting back to your daily routine, your skin is.
What is your 303 Option? *This section is dedicated to brands made and sold right here in the Denver Area.
DermaSpaRx Skin Nutrition by Dr. Asarch, MD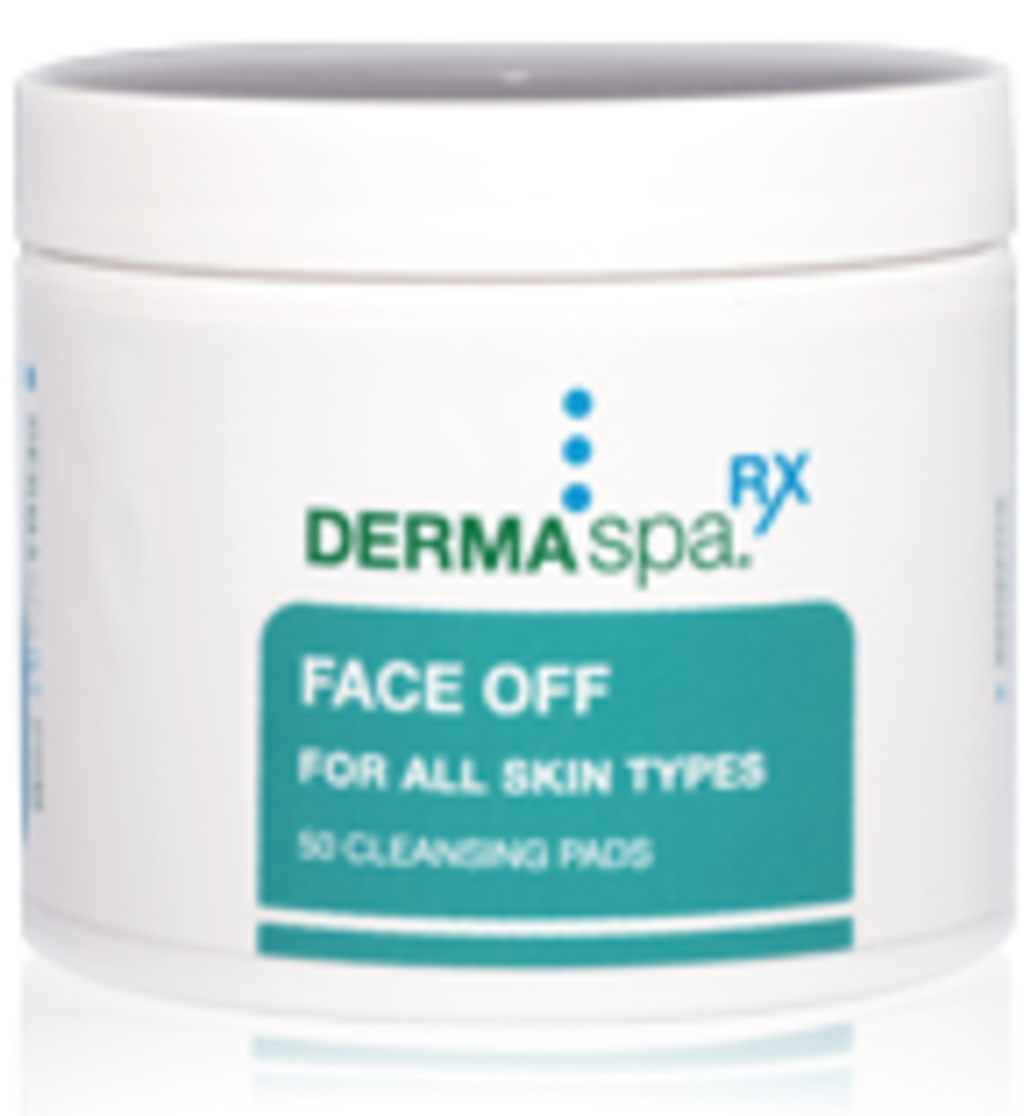 Denver Dermatologist, Dr. Richard Asarch, has created a comprehensive line of skin care and skin nutrition products including the Face Off Cleansing Pads. These gentle cleansing cloths are the perfect travel companion to keep your skin fresh and clean. I use these after workouts, when traveling and any time I can't get to a sink to wash my face. Each pad contains antioxidants to remove oil and debris from the skin while hydrating and protecting against future skin damage. Conveniently packaged for use anywhere, Face Off cleansing pads are appropriate for all skin types.
DermaSpaRx products are available at DermaSpa Medical Spa, the Four Seasons Vail Resort and other elite spas in the Denver Area. They are also available online at www.dermasparx.com