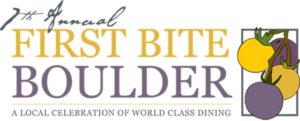 For anyone meandering up to Boulder for a bite this weekend, you'd be well advised to see if your eating place of choice is among the 47 participating in Boulder's restaurant week, an annual event highlighting our foodie haven. If it is, make a reso. If not, change your plans.
Kicking off its seventh year tonight and cooking through November 17th, First Bite Boulder brings one full week of three-course prix fixe dinners for $26. "We went to Cafe Aion last year and it was perfection," says dishwire's Kate Lacroix of one of her most memorable First Bite experiences. "It was a chilly night and we all sat around with the FBB team eating, drinking and laughing for hours. Dakota Soifer is a culinary genius and he knows how to make people feel special."
One of FBB's founders, Lacroix got involved when Josh Dinar of DiningOut Magazine approached her eight years ago with an inkling that the two of them would be "a good fit to make this happen." Six years of bolstered business during what's normally a lull season for restaurant revenue would prove them right.
Let the week of feasting begin! This year's headliners are…
4580
Aji Latin-American Restaurant
Alba
Antica Roma
Arugula
Bacaro Venetian Tavern
Bacco Trattoria
Basta
Beehive
Boulder Chop House
Boulder Cork
Bramble and Hare
Brasserie Ten Ten
Cafe Aion
Carelli's
Colterra Food and Wine
Flatz
The Greenbriar Inn
H Burger
Harold's
Japango
Jill's Restaurant
John's Restaurant
The Kitchen
The Kitchen Upstairs
Laudisio's "The L"
Leaf
Lyon's Fork
Mateo
The Mediterranean
Oak at 14th
Parma Trattoria
Pastavino
Pizzeria da Lupo
Q's
Radda Trattoria
Riff's
Rio Grande
Shine
Sushi Tora
T/aco
Tahona
Trattoria on Pearl
Treppeda's
Via Toscana
West Flanders Brewing Co.
Zucca
What's your favorite and how many will you get to? Visit the First Bite Boulder website and enter to win a dinner for two.