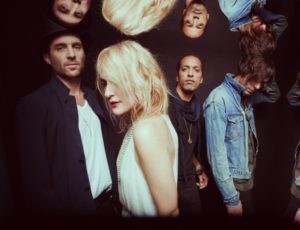 "I think it's important to be aware of when the ground is shifting under your feet," says Emily Haines. "Be careful not to get too swept away. Just take a look and remember who you are."
Haines, Metric's dynamic front woman, says the band explored human connectedness and self-identity on the band's newest album, Synthetica. The album's title track features Haines proclaiming, "We're all the time confined to fit the mold / But I won't ever let them make a loser of my soul."
Guitarist, Jimmy Shaw, elaborated on the album's concept in a recent interview with Fuse:
"We examine why things are the way they are in the world. Technological advances in the world and how people relate to each other. Too many text message relationships with people. You don't really know if that happened or not…We don't know how to relate to the technology around us. It's getting weird and surreal."
The process of creating Synthetica, the follow-up to 2009's critically acclaimed Fantasies, was the same, collaborative process Metric always practices. Haines brought fragments of songs and lyrics, while Shaw presented sonic ideas and composition. They worked from their Toronto-based studio and recorded the final product at NYC's famed Electric Lady Studios. However, this time around, they examined their decade-long career and how they fit into the current state of music. And, this time around, Haines stayed in Toronto.
"With the last album, I felt like I needed to disappear, so I went to Argentina by myself for a while," Haines explains. "This time, I felt like it was really important for me to stay in Toronto and look at the past ten years of my life and Metric, but also take a look at the world. What's going on and where are we at in 2012? You hear a lot of that on the record."
Haines has always seemed intent on searching for purity and relevance in her work, but also, herself. Before the success of Fantasies, Haines found herself alone in Buenos Aires, at a creative stand-still, struggling with self-doubt.
"It wasn't writers block, I just didn't like what I was writing. Because of where I was at in my life, I felt like if I wasn't careful, I was going to end up repeating the same patterns," she says. "I didn't want to make the next record while I was heartbroken for all these extraneous reasons. Instead, I wanted to make a record that would pull me out of that."
Spending time alone and recognizing her vulnerability ultimately inspired Haines to craft Metric's hit, "Help, I'm Alive." The rest of the album followed, and Fantasies changed the band's career.
"That time was really important for me and making the album. I was like, 'Fuck this, I'm not going to be miserable when there are too many opportunities to create my own life. I have to shake myself out of this,' Haines says. "Songs like "Stadium Love" are funny because when we wrote that song, we were not playing to stadiums. By the time we finished that record, we were."
Since Fantasies, Metric has not only played stadiums, but most recently, Radio City Music Hall as part of Fuse Music Week. Lou Reed joined Metric on stage to perform "The Wanderlust" (he appears on Synthetica's version, as well) and the band's version of "Pale Blue Eyes." For Haines, Metric's collaboration with The Velvet Underground front man has been nothing short of a career landmark.
"We had been rehearsing a version of "Pale Blue Eyes" because that's one of our favorite songs by The Velvet Underground. When Lou got there for rehearsal, we kind of sprung it on him, but he was so kind and agreed to sing it with me. It was really fun," she says.
From collaborating with Lou Reed to playing Radio City Music Hall, Haines says the band's current tour celebrates their milestones and achievements.
"It's like anything in life, when you find yourself on a path. At some point, you finally feel like you've arrived somewhere. We have that feeling on this tour," she says. "We really put in the time and did things our own way. I think every band has that story. It's a real celebration between us and our fans."
Surprisingly, Haines says the band felt little pressure to craft the "perfect" follow-up to Fantasies. Mostly, Haines is concerned with fans finding meaning in her writing.
"Most of the pressure we feel we put on ourselves. A lot of it is wanting to do right by one another and to be at our best," she says. "Obviously, you hope people are going to like the music you make, but I didn't feel external pressure so much as I hoped that my observations would be meaningful to people."
The response from fans has been fantastic. It was nice to know that I wasn't isolated in this thought and in my own head about my observations about the world around me.
Undoubtedly, part of Metric's appeal is Haines' lyrics. Metric's songs serve as universal anthems about hope, flaws, and the human condition in its most vulnerable state. Although Metric is at the peak of their career, Haines didn't shy from reiterating ideas of imperfection in Synthetica.
"There's a line in "Artificial Nocturne" that says, 'I'm just as fucked up as they say.' That line has kind of become a rallying cry at shows, the audience is just like, "Me too!" It's all of us owning our flaws," she says. "We're not plastic people, we're humans and we all have our own shit to work out. Even as a country, as a species, as a planet – we have some work to do."
Metric fans understand this concept, Haines says, and the ideas Metric explores resonate particularly with young people. She likens a fan's first introduction to Metric as being introduced to The Velvet Underground.
"Metric seems to inhabit people's lives when they are young. It's sort of like how everyone has a moment in their life when they discover The Velvet Underground," she says. "The age may vary, but everyone seems to have that one year when The Velvet Underground came into their life and really meant something. We're really inspiring and energizing and validating of the things young people feel at their age."
The band's raw energy in the studio translates to their live performances, too. The spirit of Metric's live shows is intense and euphoric, with fans singing along and "dancing their asses off," Haines says.
"We always hope that our shows will be a transcendent experience so it's not just an hour of entertainment. It's not television, it's interactive," she says. "The audience makes the night and when we get a great crowd that's full of energy, it really does feel like the whole room can lift off the ground."
From famous collaborations to sold-out shows and Juno Awards, it seems as though Metric is finally enjoying the rewards of doing things their own way and focusing on producing honest art. For now, the band is focusing on releasing the video for "Breathing Underwater" and touring. One thing is certain – Haines won't pause from writing and recording for very long, she says.
"I feel so strongly that music, in my life, really is a mantra. It's like a prayer."
—
Metric plays at The Ogden Theater tonight with Half Moon Run. Tickets are sold-out. Doors are at 7:00 p.m. Show starts at 8:00 p.m.