Welcome to the boys' club. The one-time "no girls allowed" realm of menswear has been usurped.
The boy-for-girl fashion trend – think Diane Keaton in Annie Hall and 1980s power dressing – made a comeback in 2009 and by the looks of the Fall 2012 ready-to-wear runways, it has staying power.
Houndstooth great coats paraded Ralph Lauren's show, while patterned pantsuits with mismatched ascots filled Miu Miu's. A wool, gray herringbone skirt suit appeared at Michael Kors, waist-skimming ties at Hermès and tuxedo coats with laser-cut, leather lapels at Yves Saint Laurent.
While fashion designers like these are busy gender bending, the trend is crossing over itself – into home décor.
Big-name interiors are drawing inspiration from their fashion industry counterparts in the androgyny department tailoring everything from furniture to draperies to pillows with a dapper finish, much like the bespoke tailored suits of London's 'golden mile of tailoring,' Savile Row.
In honor of Denver Fashion Weekend, I spoke with Tony Torres, of Tony Torres Interiors in Denver (www.tonytorresinteriors.com), who marries fashion with interior design. He shed light on why the trend has resurged.
"Historically, one fashion trend that is pretty prevalent in most recessions, and even the Great Depression – fabrics used in fashion, which were houndstooth, wools, pinstripes – they are very classic and long-lasting," Torres said. "The fibers last a long time; they require less dry cleaning and maintenance."
Whether creating a masculine office or library, decorating a ski chalet or just adding a handful of mannish touches to balance a space, this season's trend can work for your home and endure for years to come.
1. Plaid
Bring a little Scottish flair to the home with plaid, but remember not to mix and match too many different clashing patterns.
2. Herringbone
Usually found in a wool fiber, herringbone's strong weaving pattern (named for its resemblance to the herring fish) is one of the most popular men's suiting fabrics.
3. Tweed
For a heathered look, opt for tweed fabric upholstery. It is both durable and moisture-resistant.
4. Wool
According to Torres, wool is an ideal fabric for draperies. It never wrinkles, hangs well, is durable, crisp and clean, and is excellent for regulating interior temperatures.
Boiled wool is an alternate fabric option that works seamlessly for furniture upholstery. In wartime, boiled wool was used for its durability in military clothing, since, Torres said, it is "virtually indestructible, bulletproof – no pun intended."
 "You can have a foundation of a sofa upholstered in a wool, or worsted wool, and then change out pillows and patterns to give it a different look, just the way someone would take a suit, add a different tie or a different blouse or whatever, and dress it up, dress it down."

– Tony Torres
5. Color
Utilitarian grays and warm jewel tones like brown, eggplant and burgundy exude masculinity.
 "Warm and familiar is very important when economic times are kind of tough."

                        – Tony Torres                                                                                    
6. Stripes
Chalk stripe and pinstripe, there is a difference. Pinstripe is characterized by fine rows of pin dots, while chalk stripes are fatter and more closely resemble a rope, similar to the chalk lines a tailor etches on cloth.
7. Houndstooth
Houndstooth proves a good fabric for home interiors as it effectively hides smudges and stains.
"What's really interesting is things like pinstripes, houndstooth, wool, worsted wool – they never go out of fashion. They are reintroduced every single year, so why wouldn't those same materials and textures be sustainable and long-lasting in interiors?"

– Tony Torres
8. Leather
Weathered leather sofas and easy chairs hint at the luxury cigar lounges of the 1900s, while luggage-inspired coffee tables wink at the classic men's briefcase.
9. Foulards
Add a soft touch to the mix of sturdy, masculine fabrics with décor in a silk necktie fabric.
10. Tuxedos
Nothing says debonair like a man in a tuxedo. Capture that elegance in your home through flocked wall coverings.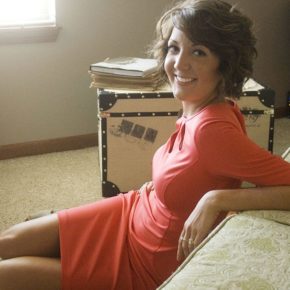 Brittany Stevens is a zealous antique hound, loves all things vintage and cannot get enough of HGTV. She is bringing her lifelong love of fashion to a new  realm – the home. Who says the décor we surround ourselves with shouldn't be as fashion-forward as what we wear?