Community Minded Dance is doing the Lindy this weekend – and you're invited!
If you did the Lindy in your youth, have always wanted to learn, or are just curious, the festival this weekend will get you groovin'.
Now in the festival's 8th year, participants will be treated to swing dance workshops for all levels from beginner to professional, performances, competitions as well as live Swing and Jazz music.  The goal of the festival is to keep Lindy Hop and other forms of Swing dance accessible to all, and to preserve its history. The weekend events feature internationally recognized and award-winning dancers and musicians from across the country.
See the breakdown of events below, and hop to it!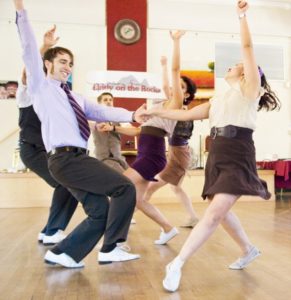 Friday, August 3 – Sunday, August 5 Swing dance classes for all levels at The Newman Center, 1101 13th St.
Denver
10:00 a.m. – 4:00 p.m. (Class schedule varies from day to day, see website for details)
Friday, August 3 at Denver Turnverein Ballroom, 1570 Clarkson St. Denver
7:00 p.m. – 8:00 p.m. Beginner Swing dance lesson
8:00 p.m. – 4:00 a.m. Dancing to live music by the All Star Swing Band
Saturday, August 4 Swing in the City at The Studio Loft at the Ellie Caulkins Opera House, 1400 Curtis St. 4th Fl. Denver
6:00 p.m. – 8:00 p.m. Tapas and desserts catered by Kevin Taylor's at the Opera House and a cash bar
7:00 p.m. – The Show – sensational performances by internationally acclaimed dancers from around the world.
Performance styles will include Swing, Tango, Jazz, and much more.
8:00 p.m. – Dancing to live music by the All Star Swing Band
Sunday, August 5 Pool Party & Late Night Dance at the Auraria Campus
6:00 p.m. – 9:00 p.m. Pool Party and Barbeque
10:00 p.m. – 2:00 a.m. Late Night Dance