It is one thing to admire art on the wall. It is another to be the artist behind the masterpiece. At Canvas and Cocktails, even the most paintbrush-shy are guaranteed to leave with a colorful conversation starter of a canvas, no experience necessary. Especially after a drink or two…
Canvas and Cocktails transformed the typical girls' night out, sparking the growing trend of "social painting". Social painting is the new night-out painting class phenomenon. Instructors provide easy, step-by-step instructions so you can create your own one-of-a-kind masterpiece while having a blast with your friends, coworkers, or date. Canvas and Cocktails takes it one step further by combining a bar with their studio for a grown up arts and crafts experience unlike any other.
With an online calendar depicting an array of paintings, guests can take their pick of which piece to recreate based on the class. Options include colorful nature scenes, still life, and even recognizable Colorado landmarks such as Red Rocks and Larimer Square at night.
Upon arrival at Canvas and Cocktails, the bubbly staff will show you to your seat amongst rows of blank white canvas begging for color. Tie an apron around your waist, pump some paint colors on your palate, and make a visit to the bar for libations (both alcoholic and non-alcoholic beverages are available) before the class begins. Sit back and relax, this is no art show contest.
To guide you through your artistic endeavor, a strategically placed canvas and instructor grace the front of the room. From here, the art is truly up to you. Rule followers and perfectionists alike may choose to follow instructions to a T while others take liberty with color, proportions, or even scrap the rules all together and paint whatever inspiration strikes. Feel free to deviate from the directions if you so please. The colorful, brightly lit studio begs you to take artistic liberties with your own piece.
In between steps, feel free to sing and dance along to punchy tunes of all genres that blast from the paint-covered stereo, sip your wine, and chat with your classmates.  A halftime break allows a quick break for first layers of paint to dry, so take a look around the studio which also boasts a small boutique with handmade collections of jewelry, clothing, and other creations.
By the time the night is over, everyone will leave with a few stray paint spatters and a work of art worthy of a gallery. Perfect for bachelorette and birthday parties, a noteworthy date, or simply a night out with the girls, Canvas and Cocktails will prove that everyone is an artist. We'll leave how many glasses of wine this creative adventure requires up to you.
Mimosa morning and family classes are also available. For more information, reservations, and classes, visit www.canvasandcocktails.com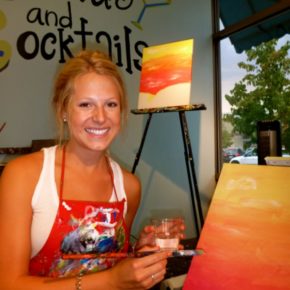 Avery Johnson is a 303 Magazine intern for the Arts & Culture section. She is a Colorado native currently majoring in English and Communication Studies at the University of San Diego. When she isn't writing, she's all about gettin' active outside or baking up a storm. She rarely leaves the house without a good book. Click here to follow her blog.