As a budding teacher myself, I'm the first to admit to preferring a controlled environment to teach in, a room where I can control the temperature, the lights, the music. I currently teach an outdoor class up in Stapleton, where I'm quickly learning that teaching is just as much a lesson in patience and focus for me as much as my students: kids running around, horns blowing, traffic racing by,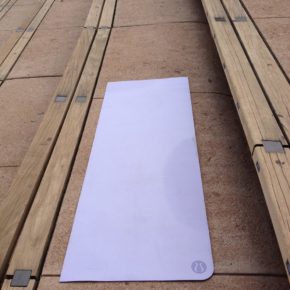 doom-laden clouds that threaten to burst at any moment– a lot of distraction, easy to lose a place in the flow, have brain freezes, etc.
Yesterday I had about 12 students, and it seemed like a lot, as part of Fitness on the Rocks next Saturday, the earliest offered form of fitness is an early riser yoga class at 8:30 a.m., where 2,000 yogis will join on the Red Rocks amphitheater steps to ring in the day with Sun A's.
The thought of teaching 2,000 people at once makes me hyperventilate internally, so when I got the chance to interview the girl who would teaching it, I jumped at it. Her name is Chrystina Fox, of foxy yoga. (ok that's not official but it probably will be someday).
I met her last Friday at a cute little place called BOA in the highlands ($2 tecates and veggie nachos on a back patio with a fountain, relaxing). She showed up in a hot-pink summer dress and a pair of angel wing earrings. Raspy voiced and overflowing with energy, I understood very quickly why she was chosen by Alex Chapman (founder of Fitness on the Rocks) to lead the early morning class. The previous night she had taken part in her first gong bath with Gary Fishman (if you ever have the chance, run, fast, to the opportunity), where she had crystals placed all over her body while Gary used various tones to do a sound cleansing. She describes feelings of "being in the 20's, watching an air show, with a lot of waterfalls around."
Lest you think she's a starry-eyed yoga hipster whose boat has gotten lost over the deep, she is finishing a degree in sustainability and wellness at ASU. When I asked if there was anything she'd like to share about the class, "People [might be] nervous about the stairs, but there is plenty of room." She and others measured it out, 2,200 people can fit, and their backs will never face the stage in the mandala sequence she and three other teachers will teach. Chrystina will instruct the first 20 minutes, starting with an Om."
At 8:30 a.m. next Saturday, this CPY Hot, Hot Power Fusion, and aerial trained yogi will bring her unique style along with three others to the excalibur of all venues. Is this one of those must attend events…I think it might be.
Registration can be found here and here. Don't forget your yoga mat.
Elliot Riis is a yogi/teacher/banker/ writer who spends his time contemplating the universe and his place in it while trying to maintain a productive role in contemporary society. He can be found most times at either Kindness or Corepower Yoga twisting himself into deeper and deeper asanas while trying to uncover that most sacred of answers, why?