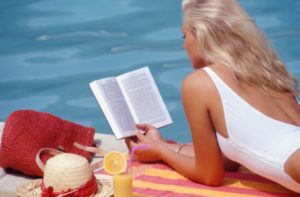 Summer has arrived complete with heat-infused days that drag on lazily, inducing a dire need to get out of the office (or classroom) and down to the pool. While not everyone has a three-month break from responsibility, the season does call for us to take a moment to slow down and savor the sun-drenched days that pass by all too quickly.
There are three essentials I require on every pool outing: a hat, a tall glass of iced tea and a good book. First on my summer reading list was The Glass Castle by Jeanette Walls. She tells the tale of her unconventional childhood in shocking detail. Raised by her flighty artist mother and brilliant yet alcoholic father, Walls' childhood was filled with nearly constant moves around the country in an alternate lifestyle that was in actuality filled with child abuse, neglect and extreme poverty.
Despite their hardships, the Walls children were driven to leave their impoverished life behind to pursue dreams of living in New York. Due to their mother's encouragement to read, Jeanette and her three younger siblings were at the top of their class whenever they were able to attend school. Walls' passion for writing and desire to escape her broken family led her to New York where she was torn between a fresh start with a new life and taking care of her now-homeless parents.
Through The Glass Castle, Walls gives insight into the extreme poverty that exists right here in the United States. The bizarre tale of her life seems almost too far-fetched to believe. The opening scene finds Walls watching her own mother rifle through a trashcan in New York City as she herself is on her way to a party. Then, it flashes back to the beginning of her childhood memories, with her three-year-old self cooking hot dogs for lunch before her tutu catches fire.
Throughout the memoir, I was torn between laughing at Walls and her siblings' antics and being angry with her parents because of their selfishness. I found myself championing the Walls children as they plotted their escapes from their family's alternative lifestyle, pursuing their dreams and better futures. Walls' problems with her flighty parents left me grateful the fights I had with my parents growing up revolved around broken curfews or choice of boyfriends rather than arguing with them about their alcoholism or tendency to steal money from the grocery fund.
Walls unapologetically takes you on her family's cross-country "skedaddle" in The Glass Castle. This novel is inspiring, encouraging, downright wacky, and unbelievable true. Walls' courage to not only follow her passion for writing, but to write honestly about her childhood is astounding, calling all readers to chase their dreams regardless of their circumstances.
Take a break from your responsibilities and join me weekly this summer for a fresh poolside pick. Slap on the SPF 30 and don your shades for a summer full of good reads.