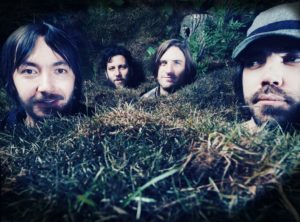 Indie music fans are in for a rare treat tonight as Canadian singer-songwriter, Patrick Watson, makes his way to Hi-Dive's intimate space in support of his most recent release, Adventures In Your Own Backyard.
The follow-up to 2009's critically-acclaimed Wooden Arms, Adventures In Your Own Backyard was recorded live, "off the floor" in Watson's loft and was largely inspired by award-winning film composer, Ennio Morricone (The Good, The Bad & The Ugly, The Untouchables, Mission to Mars).
Watson explains, "After being far from home, constantly inspired by exotic new places, the novelty begins slowly to wear off and the idea of "home" becomes inspiring and fun. Sometimes you take for granted all the amazing stories and people you walk by each day and start fantasizing about a faraway place, but you might miss the greatness that's just right around you."
Known for his signature blend of cabaret pop and experimental classical music, the Polaris Music Prize winner is also the unmistakable voice on The Cinematic Orchestra's gorgeous album, Ma Fleur (2007) on tracks like the sweeping standout, "To Build A Home."
Fans of Andrew Bird's quirky orchestral stylings, Elvis Perkins' storytelling, and James Vincent McMorrow's raspy soprano dare not miss Watson's show tonight, especially since this is his first performance in Denver since 2010, when he played as Patrick Watson & The Wooden Arms at Larimer Lounge.
Watson will bring his lush, multi-instrumental melodies to venues across the US this summer on his headlining tour, and will join both Andrew Bird and Keane on tour later this summer.
Tickets to tonight's show can be purchased at Hi-Dive's box office. Show starts at 9 p.m.