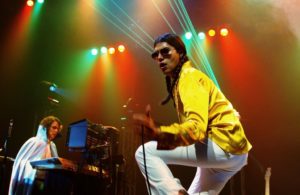 Tomorrow night, Austin-based electro-funk duo, Aaron Behrens and Thomas Turner, also known as Ghostland Observatory (GLO), will bring their infamous shooting lasers and neo-soul infused electronica to Red Rocks Amphitheatre, headlining what is poised to be a sold-out show.
Behrens (vocals/guitar) and Turner (drums/synth) are no strangers to the 303. State favorites, GLO has made it a point to play in Colorado a few times each year.
"I've had fun at all the shows we've done [in Colorado]. I get a really good vibe playing here. Everyone is down to just have a great time," Turner says.
Although they make stops in Colorado throughout the year, GLO has become somewhat of a summertime staple for Colorado music fans. After headlining Westword Music Showcase in 2010, the pair returned the following summer to co-headline Red Rocks with Thievery Corporation. Tomorrow night, they return to play a headlining show with MiM0SA. Zion I, Lunice and Free the Robots will open.
Despite releasing their last album, Codename: Rondo, in 2010, GLO's synthy rock n' roll has attracted enough fans for the band to tour non-stop over the past two years. As if Turner's collection of one-of-a-kind capes (designed by his wife), Behrens' on-stage antics, and their irresistibly danceable tracks like "Glitter" and "Sad Sad City" weren't enough to leave fans with a lasting impression, their stage production surely will.
Boasting more than 16 lasers that pulse and flicker in time to GLO's infectious beats, the band's stage production is not to be missed. GLO led the movement for artists and bands to feature high-tech lighting and lasers as part of their performances in the early 2000's.
"When we were first starting, it was important for us to give our fans a full experience when they came to see us," Turner explains. "Having lighting seemed like a good way to enhance our show and make it worth our fans' time and money to come see us."
The band's innovative DIY approach doesn't stop there, either. All of GLO's albums are released exclusively through Turner's Trashy Moped label. The pair is expected to release a new album later this year, so fans will likely hear new material at Friday night's show.
Tickets to tomorrow night's show are still available and can be purchased through Ticketmaster. Gates open at 6 p.m. Show starts at 7:30 p.m.