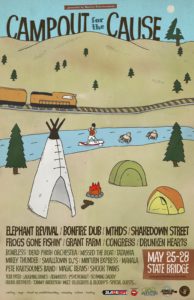 As Memorial Day weekend is upon us, don't just party to party—party for a cause. In other words, kick off summer with Campout For The Cause at State Bridge tomorrow through Monday.
Campout for the Cause started in 2009 with a  mission to "create a conscious family friendly event to kick off the summer season in the Colorado high country." It provides a stage for local musicians and artists while giving back and celebrating the Colorado community, all with the backdrop of the Colorado River and Rocky Mountains.The weekend will be complete with yoga, drum circles, stand up paddle boarding, rafting,concert, art displays and picnicking under the Colorado sky.
What is the cause? Besides bringing the community together to celebrate the arts and Mother Nature, a portion of proceeds help bring music to children and aid victims of natural disasters. The first nonprofit sponsored by Campout for the Cause is All Hands Volunteers. This US-based organization "provides hands-on assistance to survivors of natural disasters around the world, with maximum impact and minimum bureaucracy." The other, The Realm of Caring, creates musical experiences and opportunities for children. Specifically, this year they are fundraising for a mini camp for underprivileged kids to be held at State Bridge.
So grab your tent, bongo and yoga mat, and enjoy Memorial Day weekend in the outdoors. Tickets are $69.99 in advance of $75 at the door.
For more information visit www.campoutforthecause.org or email campoutforthecause@gmail.com.