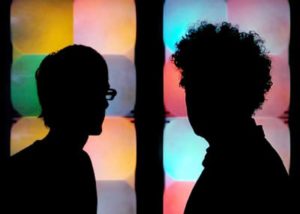 Cervantes Masterpiece Ballroom is about to be transformed into an underground Euro-inspired dance club tonight.
London DJ duo, Simian Mobile Disco (SMD) will bring their electro/tech house to Cervantes this evening, marking the pair's first return to Denver since their performance at Bluebird Theater in March 2011. Euphonic Conceptions and Souls In Action Entertainment have teamed up to feature not only SMD, but a stellar supporting lineup including local favorites Robotic Pirate Monkey, Ginger Perry with Narky Stares and Proper Motion.
Fresh off their recently released third studio album, Unpatterns LP (May 2012), SMD is nearing the end of their North American tour. The two-week tour makes only eight stops across EDM hotbeds, including NYC, LA, Washington D.C. and, of course, Denver, CO.
While fans will be treated to material off Unpatterns, including the standout, euphoric "Seraphim," SMD will likely drop old favorites from their previous releases, Attack Decay Sustain Release and Delicacies, an album with tracks named after exotic cuisines from around the world. Unpatterns is a departure from SMD's previous electro-pop productions, offering fans deep minimal techno as a danceable alternative.
For EDM fans unfamiliar with SMD, tonight's show will serve as the perfect introduction to the duo's elegant electronica. After forming in 2005, the pair quickly became critic darlings with their creative and flawless production, crafting sophisticated dance music featuring notable vocalists like Hot Chip's Alexis Taylor and Yeasayer's Chris Keating.
Tickets to tonight's show are $20 and can be purchased at the box office. Show starts at 9 p.m.