Meeting brave souls who challenge societal norms and fashion standards is enlightening. Our society has been known to create gender-based stereotypes that create uncertainty and a feeling of unworthiness. It's hard to fit into a box when your creativity is too large to be contained. For example, there are beautiful people walking this earth that don't fit in any gender-specific box, they are androgynous. An "androgyne" is a person who does not fit cleanly into the typical masculine and feminine roles of society. 
While we are all about style and fashion, it is important that we feel the most comfortable in our skin. We had the amazing opportunity to chat with some of these valiant spirits and they shared some of their favorite staples and how they own their androgyny. 
Ty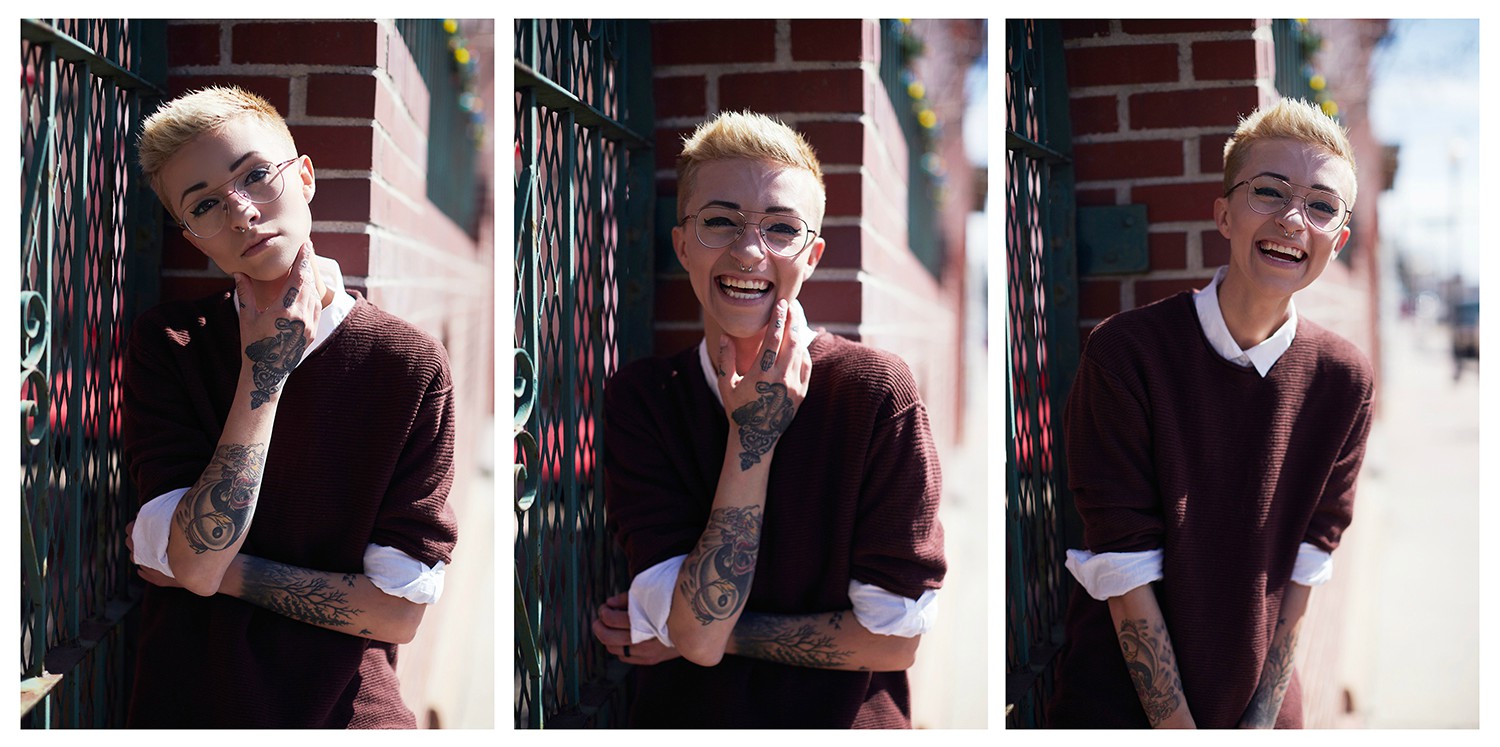 Born Tyler Marie Kranz, this 24-year-old aspiring fashion designer — she is co-creator of T&J Upcycling — never really felt like herself until a few years ago.  Being non-binary with the proper pronouns of they and them, they finally have the confidence they felt they lacked. Kranz strives to guide individuals who are going through similar struggles by standing strong and androgynous. After surviving brain surgery, there was a point where Kranz had 17 brain seizures a day. The mantra, "mind over matter" rang especially true. Now that Kranz lives in their truth, they have been seizure free for three years.
303 Magazine: Can you share your journey to androgyny?
TK: In my eyes, it was more of a journey of self-discovery. I always felt the urge not to follow stereotypical prototypes of what a "woman" should be. The depth to this journey is a revolution between identity and biological sex. I identify non-binary, which means I do not use typical pronouns of what a woman would use, nor those of a male. To label myself in my experience means to confine myself, which is when the self-discovery began because I was finally learning how to break down those stereotypes in my mind. I would say I finally built the courage to be true to myself at age 21.
303: What do you love most about your style?
TK: My style is influenced by how I'm feeling in that moment. It's always been a form of self-expression, which is why for me, identity is HUGE. What I love most about my style are the reactions people have towards how I dress. I could be wearing my most gender-fluid outfit and those around me are tempted to label or categorize me, but can't. I love that my style isn't influenced by what's hip or in and speaks for itself.
303: What are some of your favorite staples to wear as an androgynous woman?
TK: Being non-binary, I love wearing boxers. I've never felt so comfortable the way I do when I slide them on. Describing my daily outfit, I love my jeans being loose with an elongated t-shirt and a hat. I also love my three-year old dress shoes! I bought this pair of shoes when I first began shopping in both male AND female departments, freely and openly without being scared. They bring me such light, happiness, sophistication and confidence. It's crazy how shoes can do that!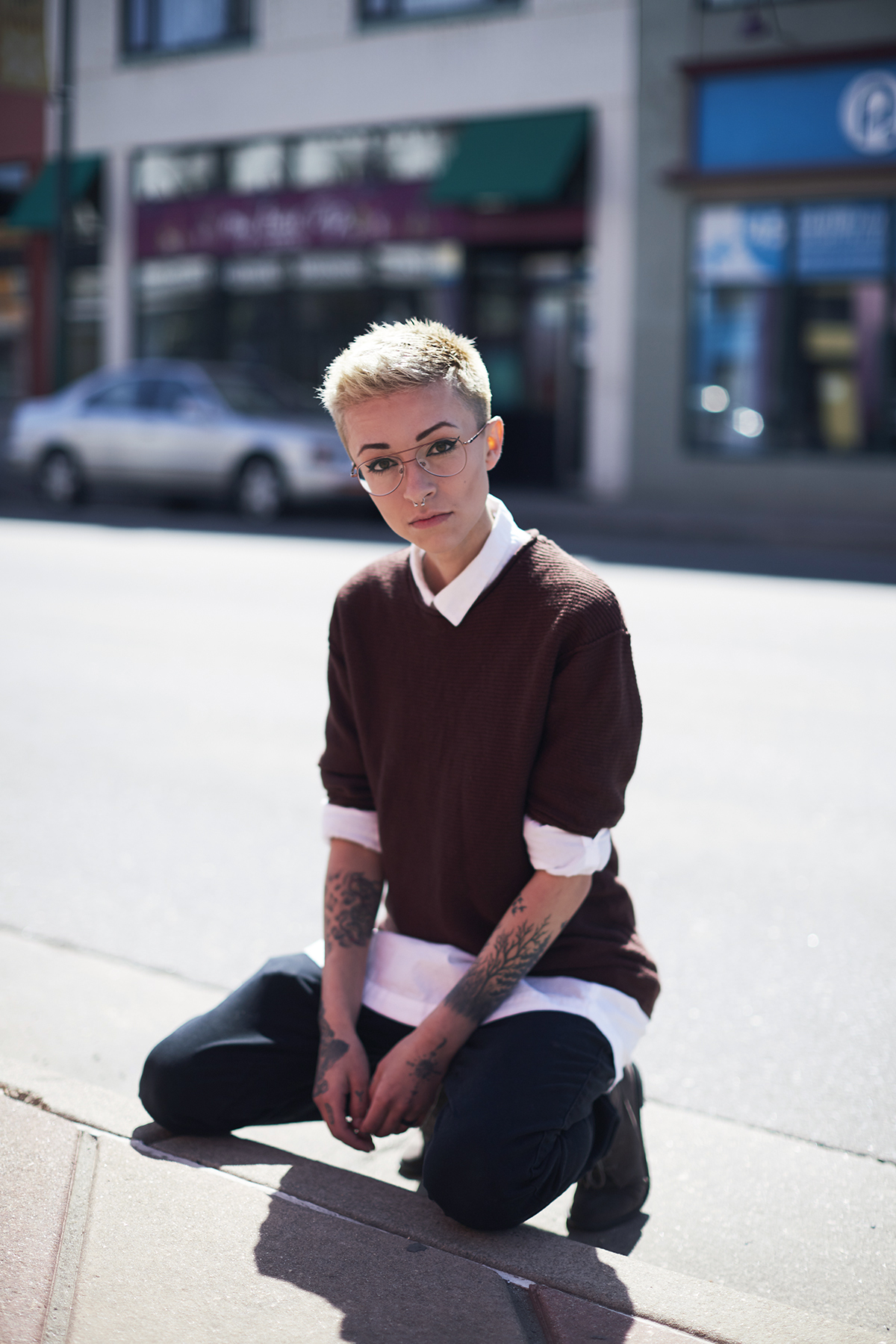 "Regardless of the obstacles in your path that you've been served, remember YOU were served them, because YOU were built to overcome them." – Tyler Marie Kranz
---
Meghan Monique
As a Colorado native, Meghan Monique, works as a licensed barber and stylist in the Mile High City. Monique loves making people feel good about themselves because she knows what it feels like to lack that feeling. As an androgynous woman, she's had challenges with acceptance, identity and learning to be comfortable in her own skin. Through it all, her experiences have only strengthened her and made her a strong individual. Monique wants to inspire, empower and encourage androgynous women to be who they are, chase their dreams and not be afraid to stand out.
303: Can you share your journey to androgyny?
Meghan Monique: I've always been a little different from the girls. As a young girl, I was convinced I wanted to be a boy for the longest time. At about 13, I cut my hair super short. I started to wear boy clothes and I did not know what I was doing. I would definitely say I was strictly on the masculine side of things. In my recent years, I have grown to absolutely LOVE being an individual that carries both masculine and feminine characteristics. I've embraced the beauty in my uniqueness ever since.
303: What do you love most about your style?
MM: I love how different I am from the rest. I am bold and I feel beautiful in my uniqueness. There's something so unbelievably empowering to me about a woman with short hair.
303: What are some of your favorite staples to wear as an androgynous woman?
MM: I'd have to say my number one favorite thing HAS to be a blazer. I also love menswear watches and neckties.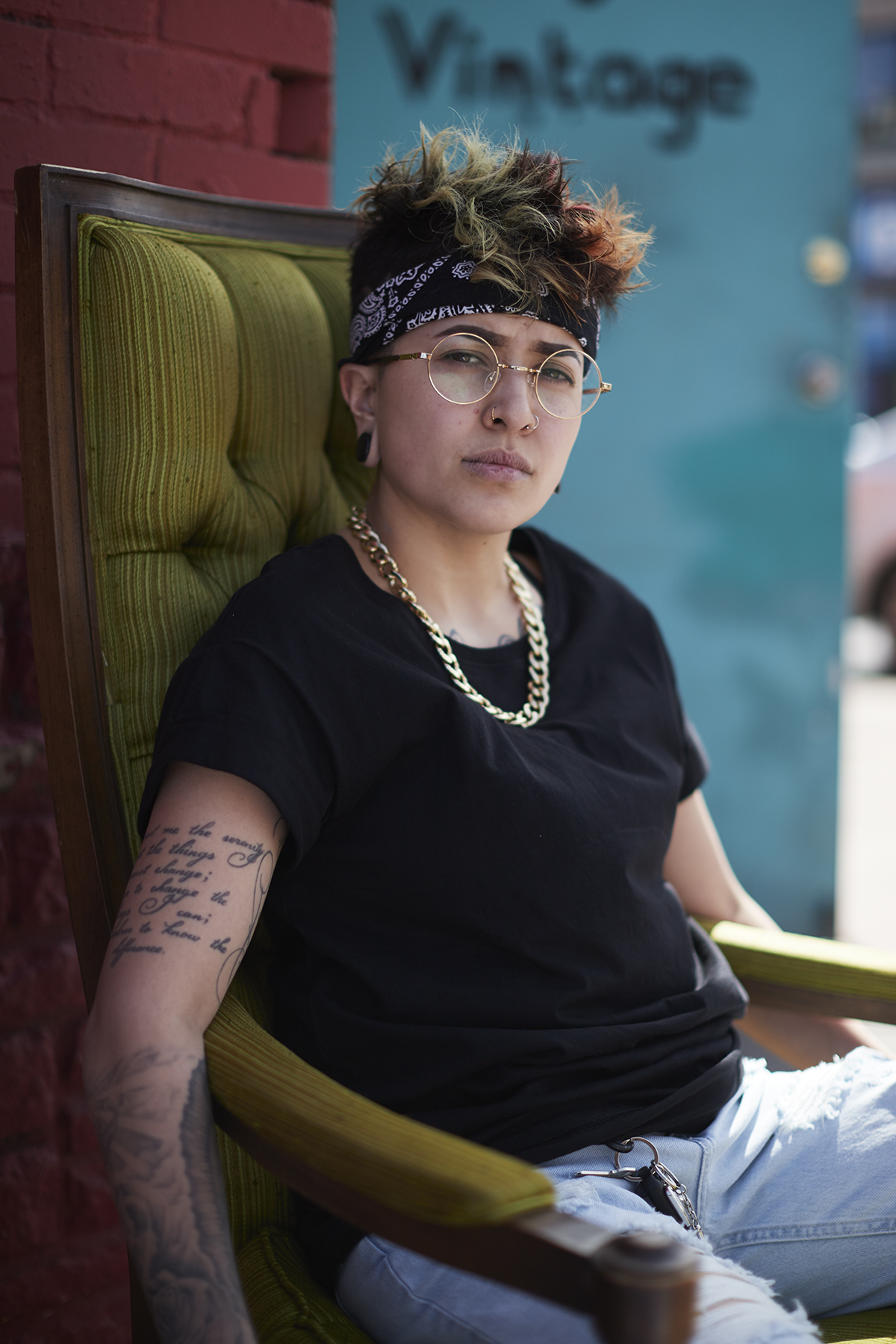 "Embrace being different! Spend time to get to know yourself. Also, you owe NOBODY an explanation of what you do and why you do it. Your life is yours, not theirs." – Meghan Monique
---
Amy Babich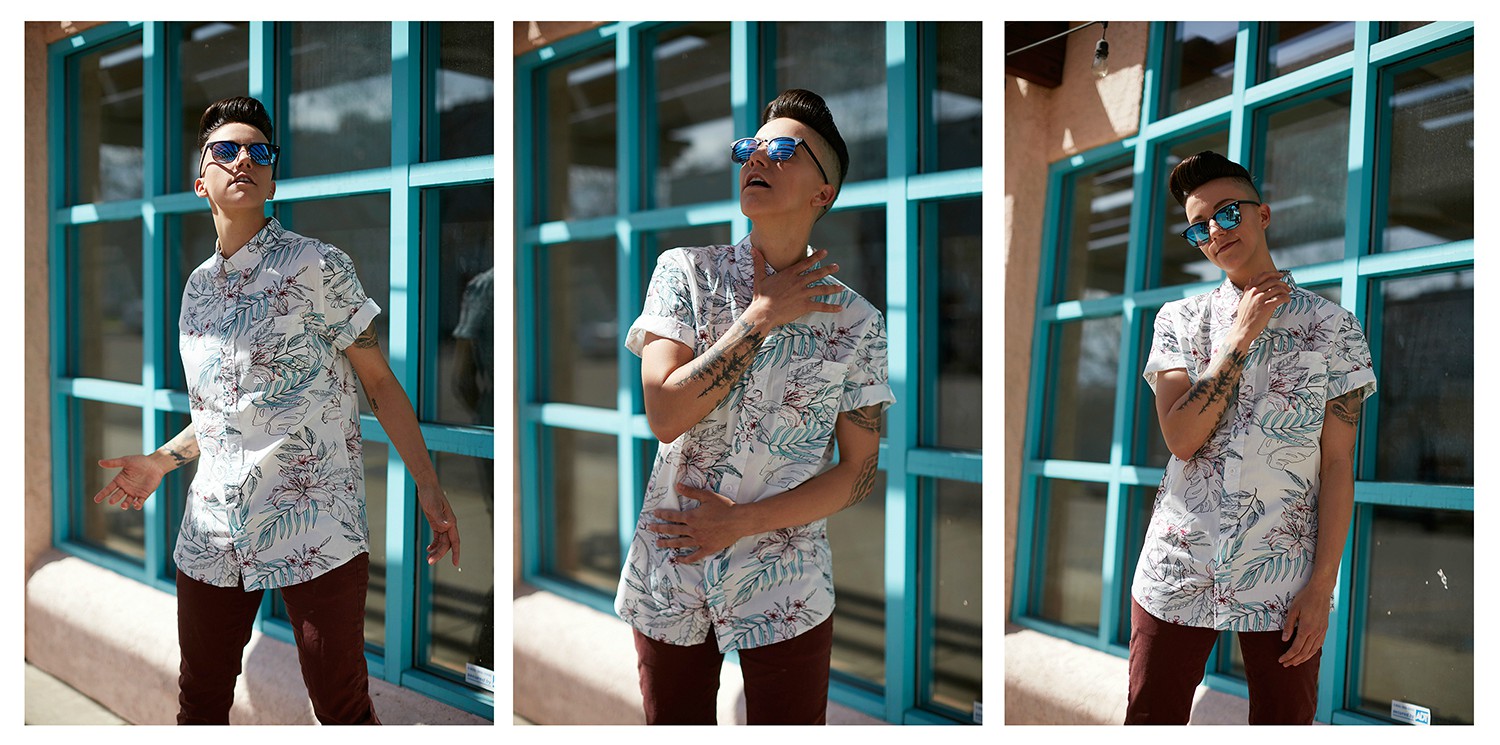 Amy Babich is a healer, who practices massage therapy, Reiki, and trauma-informed bodywork in her private practice Wholesome Healing, LLC. She also co-produces fashion shows with DIVINITY Productions and is working toward her degree in counseling psychology and somatic experiencing. When she's not practicing healing arts, she loves to spend time with her dog and her friends in nature. Babich truly believes in the mantra by Lao Tzu, "When I let go of what I am, I become what I might be."
303: Can you share your journey to androgyny?
Amy Babich: Androgyny, for me, definitely didn't happen overnight. Before I came out, and even a while thereafter, I dressed very femininely because, 1. I felt that I should and 2. In a way, I knew I could pull it off. Regardless of the fact that I "looked good," people couldn't see how uncomfortable I felt. Slowly, I started integrating more masculine apparel a couple years ago, and it was then that I found the true confidence that I had so desperately wanted to have.
303: What do you love most about your style?
AB: I love the word "suave," and I feel that it's also a perfect way to describe my style. My friends often joke around with me and tell me that I "dress/look like a frat boy," but I love preppy button downs, bow ties and suit jackets. I can't help it! I also really dig my hairstyle, and it feels like a true part of who I am.
303: What are some of your favorite staples to wear as an androgynous woman?
AB: A couple fun and classy staples to wear when wanting to integrate more of the masculine androgyny are ties and bow ties, a selection of button-downs — from crisp and clean to fun and floral — oxfords and suits.
"Take the first step, or even a giant leap — if you're feeling extra courageous. Also, wear things around the house until you feel comfortable enough to wear them out. Confidence is key, and the more confident you appear to be, the better you wear whatever it may be." – Amy Babich
All photography by Rebecca Grant.