Looking at Snowlab's sign and uttering the phrase "artisan shaved snow" left a bad taste in my mouth. Visions of snowcones with organic ingredients and a whole lot of ideology abounded. For this reason, I scoffed at what seemed like a lofty claim, sure that the product would fall drastically short of whatever ambitions were so frivolously attempted within. I could not have been more mistaken.
Snowlab is the brainchild of business and food enthusiasts Daniel Huynh and Augusto Guererro. The fashionable location near Evans and I-25 is highly original and downright excellent. The Taiwanese style shaved snow served could not be further from the melty, corn-syrup drenched shaved ice reminiscent of carnivals and ice cream trucks. Made from soy milk, coconut milk or water, the fluffy and flavorful dessert is far more akin to ice cream — the plentiful toppings on display further liken it to that or frozen yogurt. A machine spits out the flavored snow into a cup, forming thin layers of surprisingly elegant, lightly sweetened and easily downed dessert. In an ongoing battle to remain cool through the dog days of summer, few places in the city provide as thorough or as novel an oasis.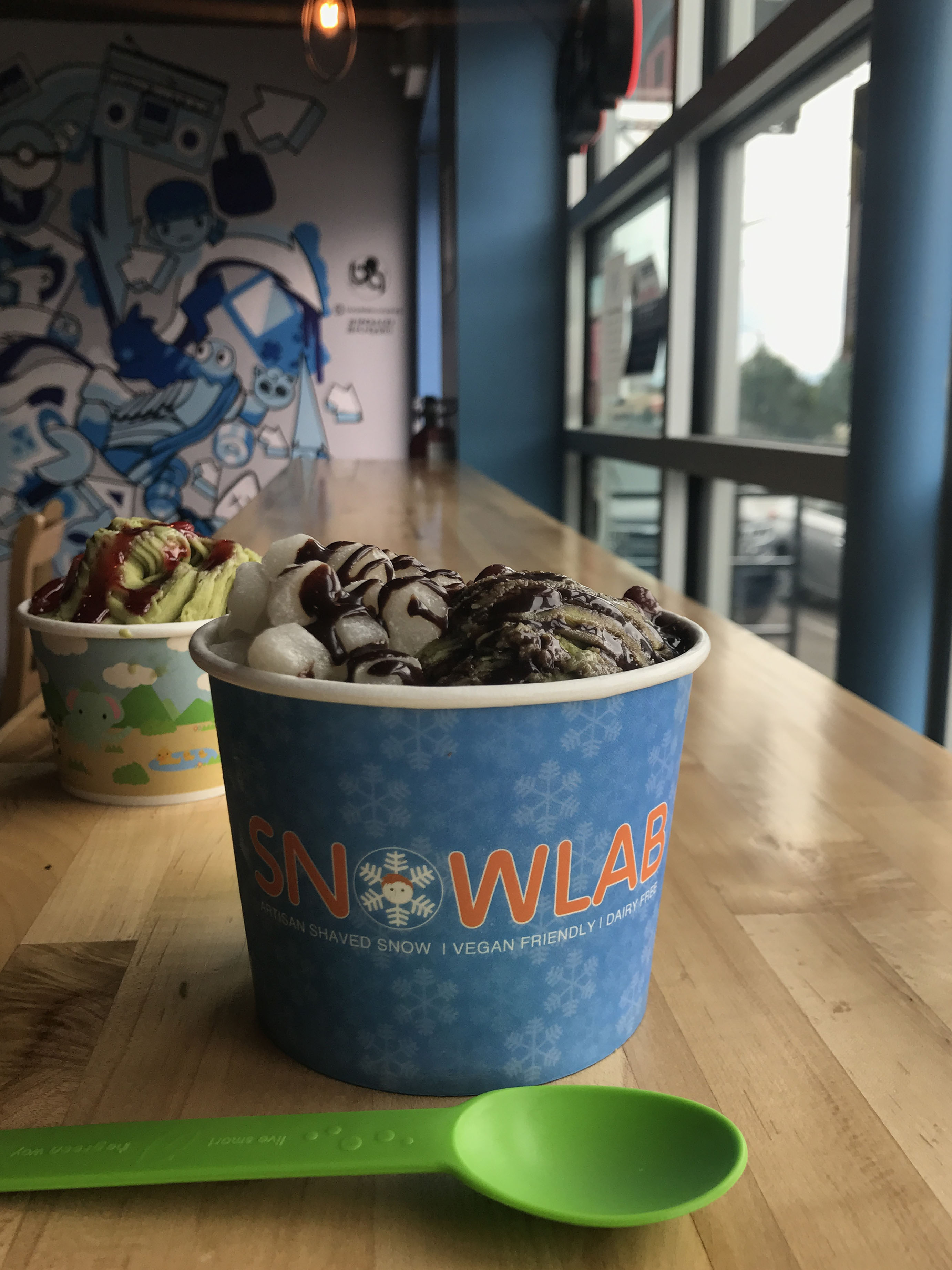 The menu consists of six prearranged combinations that expertly pair flavors and toppings. Endless customization is also available — patrons can draw from a long list of flavors including lychee, taro, black rice horchata or more tame offerings like strawberry, chocolate or coconut. The topping menu has equal depth. Fresh sliced fruit, mixed nuts and Oreos are joined by popping bobas, red bean and coffee jelly. The intersection of influences both East and West makes for high quality and creative dining — the best elements of multiple dessert cultures managing to disguise the fact that the stuff is actually fairly healthy. The menu is mostly vegan — the few easily spotted dairy toppings including condensed milk are easy to avoid.
The green tea mountain ($5.49) is green tea shaved snow, mini mochis, red beans and a condensed milk drizzle. The subtle sweetness of each involved ingredient blends perfectly while the diversity of the textures keeps things interesting. The Oreo peak ($5.49) is Oreo shaved snow, strawberries, crushed Oreos and condensed milk. Traditional Western ice cream styles sit comfortably alongside relatively adventurous flavors, illustrating the brilliant range of the location's concept.
Everything about the place, from the sprawling Nintendo-inspired mural by local artist El Marsito, to the clean and inviting interior, and of course the delicious and largely unexplored product screams franchise possibility. The unassuming exterior makes the well thought-out branding within all the more impressive. Altogether the place gives off the feeling of being on the cusp of an impending trend. Do yourself a favor and beat the crowds as soon as possible.
Snowlab is located at 4360 E. Evans Ave., Denver. It is open Sunday to Thursday 12 to 10 p.m. (with the exception of being closed on Wednesdays) and Friday and Saturday 12 to 11 p.m.
All photography by Colin Wrenn, unless otherwise noted.