What: Occidental
Where: 1950 West 32nd Ave, Denver CO, 80211
When: 4 p.m. – 6 p.m. Monday through Friday, Saturday from open to 6 p.m. and Sunday from open to close.
Neighborhood: LoHi
Pros: The drink menu is diverse and the bartender has got his work cut out for him. Thoughtful cocktails are available at $7.00 a piece. 
Cons: Food is not available at a promotional price.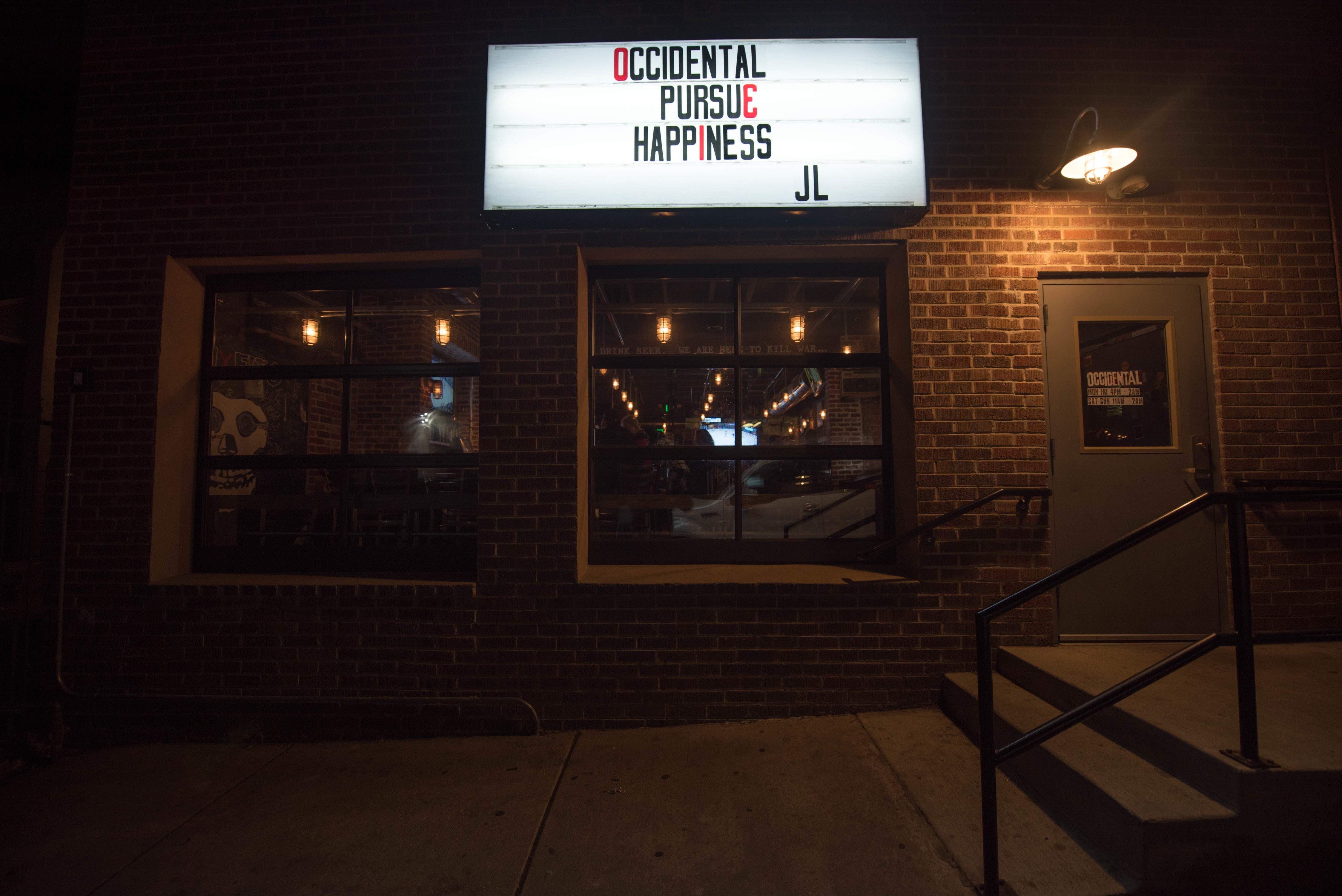 Williams and Graham (winner of 2015's Best American Cocktail Bar) has a wicked stepsister who has moved in next door. Occidental is a punk rock inspired watering hole that fuses a traditional dive-bar persona with a thoughtful and inventive cocktail list. Award winning bartender Sean Kenyon has composed a well rounded list of drinks including, but not limited to a couple of unique old fashioned style bourbon drinks, mezcal cocktails, gin refreshments, Schaska daiquiris and chartreuse aperitives. The atmosphere pairs high energy music and staff under low light and loud music — making this dive a great rendezvous for a casual first date or a party fueled bar hop with friends.
Finding crafted cocktails in Denver is hard when trying not to break the bank but Occidental has you covered. The bar offers ten thoughtfully crafted house cocktails and twelve hand picked draft beers at a happy hour price during the week. The bartenders entertain guests by cracking, stirring, shaking and even drawing on drinks that pass over the counter. Using tricks like saline solution, egg whites, house made aperol, raw sugar cubes and fresh herbs, the mixologists at Occidental put on a great show for their customers. It's always notable and refreshing to see that the employees are happy to explain their methods and inspirations to a curious consumer — so feel free to ask away.
The Drinks
The appearance of Mezcal on the menu caught my eye immediately. I order the Los Monjos ($7.00). The drink is served in a frosty martini glass and garnished with a fresh orange peel. The smoky flavors of agave add a depth and savoriness that suit a hot summer day or cool fall evening. The addition of Campari (Italian liqueur) turns the drink a light pink color and makes for a nice bitter sweet addition to the smoky mezcal. Fresh lemon juice and honey bring the drink full circle with a sweet, citrus finish. This drink has it all — smoky depth, bitter bite, sweetness and a citrus pucker. I had to order a Frito pie ($7.00) to accompany it. The pie comes topped with a house red chili con carne that kicked a nice spicey pairing — just right for this unique Spanish-Italian cocktail.
The other drink that popped off of the house cocktail list was the Pretty Vacant ($7.00). The first ingredient listed is fino sherry, which is the driest and palest of the sherry fortified wine varietal. To sweeten this traditional dry cooking wine to drinkability the recipe calls for a white grape soda. Chartreuse (herbal liqueur) and salt are added for a floral bitter bite that finishes off this bubbly dry white wine cocktail with a snap. This drink is the most unique happy hour beverage on what is arguably one of the most unique happy hour menus Denver has to offer. Occidentals' offerings are a great way to learn something new and to take happy hour beyond the average mixed drink. The menu rotates regularly and the staff shakes up its own enticing specials and experiments nightly. This is a great spot to see what it takes to make a truly cutting edge cocktail.
All Photography by Nick Annis.