Zoe Twitt grew up on a wool farm in Australia. Years later, she moved to New York with her family. She dabbled in acting, ran a fashion label, and is now in Colorado running a successful website called Shop Zoe Life, offering natural, upscale beauty products and lifestyle fashion. And the high-end athletic wear is something so unique that Denver has probably never laid eyes on it – until now.
Presenting on night two of Denver Fashion Weekend, Zoe will showcase athletic wear from New York and LA to show off the potential of athletic fashion in our highly energetic city of Denver. It's something the DFW runway has never seen before, and we couldn't be more excited to see it live.
We chatted with Zoe about how she started Shop Zoe Life, along with what exactly we'll be seeing on the Denver Fashion Weekend runway.
Tell us about Shop Zoe Life.
Zoe Twitt: I started SZL last spring. After seeing a need for a natural, organic, healthy website that offers a complete lifestyle, not just one category, I decided I'd create a highly personalized selection of hand-picked items across the wellness spectrum. An enormous amount of research goes into the brands that I carry and the selection is very limited. I choose the best of the absolute best, but I keep it simple so that my clients can simplify their lives. Wading through hundreds of products on a site can be very time consuming and overwhelming. This is for the discerning, successful modern woman.
What sort of items do you offer for sale?
I offer fitness apparel, organic make-up, organic and/or natural skincare and body care.
You have a lot of natural products. Why do you think this lifestyle is important?
I created the site for people who are overloaded and suffer from issues of stress, skin congestion, autoimmune issues, and those who just want to live cleanly. There is absolutely no reason to use harsh chemicals on that highly porous organ we call our skin. Despite the billions of dollars spent annually on marketing, they don't do a thing. Synthetic additives are simply cheaper for large companies to use to manufacture en masse. Ultimately, natural skincare that works is a better long term investment and in the case of my products it's more highly concentrated with more bang for your buck.
Currently, what's your favorite beauty product on your website?
That is a really difficult question! I rotate my favorites and always have a top three, but the one that I can't live without is the May Lindstrom Problem Solver Mask. It has garnered rave reviews from literally everyone.
You also offer a variety of athletic wear, which you'll present at DFW. Tell us a little about these collections.
I think we will be presenting Koral, Michi and perhaps Vie Active. Koral is made in downtown LA and has a crisp but slouchy vibe without being affected. Michi is made in Toronto, which is the athletic apparel manufacturing capital. Michi is very high-end and tows the line between athletic to evening, using many finishes found on extremely luxe lingerie. I love that this brand can be worn swimming, too!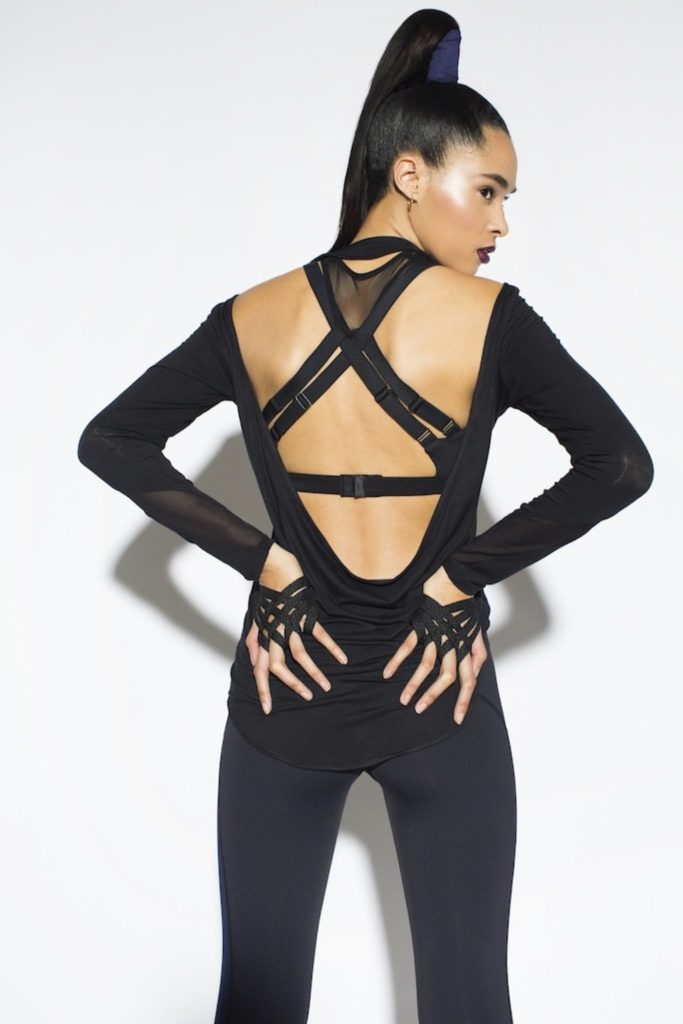 Why do you think it's important for Denver to see this kind of athletic fashion?
It's tricky to be fashionable and sporty! We live in an age in which our gym clothes need to double as chic casual wear. I love offering choices that are a step up from Lulu Lemon, and our brands are extremely brave and edgy. That's important, too! I love a bit of healthy boundary pushing.
From these brands, what will we see on the runway?
Tons of sexy fashion-forward cutouts from Michi NY (made in Canada), and some high-end street wear from made in LA brand Koral.

Do you have a favorite athletic piece on the website?
I love the Michi bras. I live in them because not only are they supportive and comfy, but they offer an edgy, decorative element to outfits. They go beautifully under sheer tops without baring all. Never must you look like a hoochie mama.
You've had a pretty interesting career thus far in life.
I ran a fashion label in NYC. I started out creating a luxury basics collection of wool silk jersey blends, knitwear and silk chiffon pieces for layering. Later, as the brand became more successful and was picked up by department stores, we did a full women's RTW collection. It was awesome and very rewarding but very hard work.
Obviously Denver isn't a fashion capital like NYC or LA But do you think it's on the rise here?
Of course! Denver is really thriving. I don't think our fashion is growing and expanding as fast as our restaurant scene or our artistic community. But as we begin to be offered more choice, I know that will change. I hope to help prod that process along a little in the activewear department.
What's next for Shop Zoe Life?
Soon we will be seeing the resurgence of knitwear and Italian wool silk jersey basics on SZL! Stay tuned.