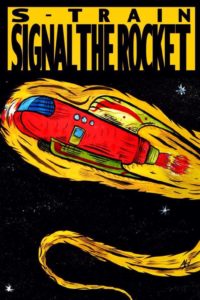 S-Train has released the video for "Signal the Rocket" and it is full of fire, rowdy scenes with his crew and even better raps. S-Train is a Colorado MC who says he enjoys employing wordplay and braggadocio rhymes. "Signal the Rocket" is the first video and single from The Rise of the Soloist and the track is produced by Tubbs Got Beatz and features Varcit-E Da Cypha. The song is less party anthem and more of a spontaneous combustion of perfectly phrased rhymes and beats.
S-Train says the video is designed to have a more Beastie Boys energy and Cyprus Hill flow to the raps. Filmed in a junk yard space the MC fondly calls "every boy's playground," the crew pretty much showed up to break all of the rules.
"I make my own style of hip-hop with my collective. Tubbs is a part of that. He has produced every single song for me except two on my past records. The Rise of the Soloist hasn't been released yet, we are still building concepts and beats to go on the project," S-Train says.
The MC is creating a space for innovative and "straight forward" hip-hop that's based on the structure of the verses and good hooks, explains S-Train, "We make good hooks and good songs that will draw people in. None of that gimmick shit. We like to still go by original hip-hop beliefs but I'm not trying to pretend I'm anything different than who I am."
The album's inception has taken some time to come to fruition, as the MC says he and the camp were on ("Bob Marley time, just getting it done when it gets done,") but if the first offering from "Signal the Rocket" is any indication, the rhymes will be slanging and there will be fire.
Watch the video for "Signal the Rocket" below: