The Denver hip-hop scene is always on the move. At any given time anyone can have their eardrums inundated with the hottest beats or their visuals stimulated by intriguing videos. MC's in the Mile High City are continuing to find the most innovative ways to convey their creative expression. It's easy to find content and material to cover in the scene but gathering the very best is most key. Here at 303 Magazine, we listen to and watch everything, so you don't have to.  Thank us later.
Izm White goes in on unsurprising perceived notions about him as a white rapper. The MC represents for his city without gimmicks saying he hustles in the city where most are ski tourists. Izm is charming on the microphone over this beat and keeps his verses tight with a Bronco reference or two on "They Say Yeah."
DK is stepping his game up with this track "Soon As We Get Up." Expect some rapping, some singing and more than a melodic rhythm on this one. Perfect for the clubs, DK brings a nice swag to this first single from his latest release "Windows Theory."
Mr. Dubblup's track "Out My Face" is perfect for those days when you need the music to do that talking. Using a bravado driven "I do what I want," kind of sentiment, Mr. Dubblup's flow is loose and determined. The way we like it.
"Ridin Swell" by Mr. Deuces is a song that sounds like it belongs beating reverberating from a trunk in Houston. The production is incredible, his rhymes will remind you of Pimp C and did we mention the production is amazing? Let this one ride all the way out.
Aires Jackson, the good guys of hip-hop are back with the track "Sounds Good" produced by Lokon Beats. Lenny Lenn and James Ray Jackson are not given enough credit for how innovative their styles are. The rhymes may come across as simplistic at first but there is incredible depth to their substance.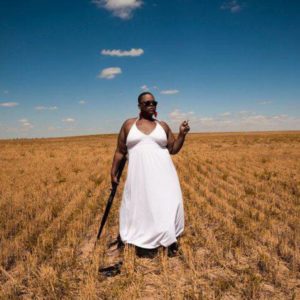 Ru Johnson is an entertainment writer living in Denver, Colorado. She writes about hip-hop, consults creative projects and makes things cool. In the best way. If you'd like to submit your music, send her an email: [email protected]