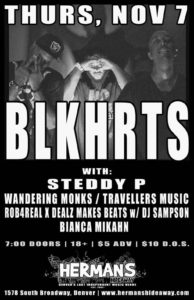 BLKHRTS seem to shine the brightest (or the blackest, if you will) live on stage. Their live show is rife with wild antics, writhing from the MC's and explosive crashing beats. You'd be remiss to only group the trio into only one genre. Yonnas Abraham, King FOE, and Karma seem to defy the odds of both sound, motion and rap evolution every time they take the stage. This Thursday night at Herman's Hideaway, with a little help from their friends, BLKHRTS are prepared to blow the roof off the place. It sounds like an exaggeration but joined by Steddy P and DJ Mahf, Wandering Monks, Travellers Music, Rob4Real with Dealz Makes Beats, and Bianca Mikahn, there just might be a stage left after the set is over.
BLKHRTS, the vowel-less brainchild of Yonnas Abraham (formerly of The Pirate Signal) is best and most often described as rock/ghetto goth. The rap crew is critically hailed and their projects are just as expressive in studio form as live on stage. Death, Romance and the Color BLK, their latest offering is most definitely not your little sister's hip-hop. The trio use their voices as visceral offerings and their bodies to further emphasize the point. Fondly described as "atonal vocalism," by Abraham, it is quite incredible watching the synchronicity in their raps and verses.
As for their supporting acts, Steddy P with DJ Mahf have been on tour for virtually three years as the MC/producer combination, while Wandering Monks have been representing self-described "conscious underground hip-hop" since 2009. The rap collective Travellers Music tend to lean toward the more progressive end while being heartfelt and poignant at the same time.
Duo Rob4Real and DealzMakesBeats are releasing an album Ignorant Intellectuals that will touch on their mysterious styles and the unity of two seemingly different worlds. On stage expect the genre blending to continue with incredible beats and rhymes that will make you think. Bianca Mikahn describes herself as a straight up spitter. Her succinct performance style is charismatic and thorough, as she leaves nothing on the stage, giving the audience an energetic and performance chock full of symbolism. Mikahn's latest release NightDreams & DayMares is set for release on November 15th.
Purchase tickets to this show here.
Get a taste for the BLKHRTS imprint with "Pure Pitch Black."