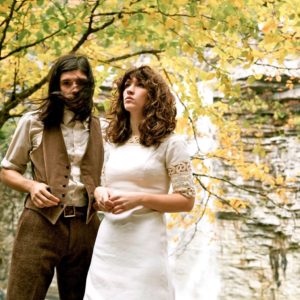 2013 has been a something of an action-packed adventure for Widowspeak, the Brooklyn indie folk duo who released their second album Almanac in January, only to follow it up this month with a new EP, The Swamps. And what better way to embrace the crunch in-between records than with a 16-city tour? They make their Denver stop this Sunday, performing at the Larimer Lounge.
They'll likely have a warm reception here, considering the city's sizable scene of young folks doing folk. One cannot, for starters, miss a bit of similarity between Denver's Esme Patterson and Widowspeak's Molly Hamilton, who both share a sweet guileless tone and sing about all sorts of different frustrations. Hamilton has the advantage of a superb backer in guitarist Robert Earl Thomas, who strings together pleasant melodies both small and large, the latter often present on their best songs, like on "Ballad of the Golden Hour."
The new EP strikes a similar range, from the simple melodies made from a pairing of banjo and keys to tracks that have the giant-sized production that one assumes requires more instruments than the duo could carry.
The Swamps does, however, coalesce more closely around a theme, that being the bayou and its' associated music. The record presents something of a cinematic vision, opening with a stirring bluesy theme, followed by the more rigorous "Smoke and Mirrors." Then comes the apex in "Calico," a song that opens with a classic set of chords and Hamilton's sauntering falsetto. It builds in an unassuming manner, going from a simple melody towards something straight out of the end credits of a spaghetti western.
It'll be interesting to see how the pair recreates such works on stage, but one can only assume that a backing band is involved. Stream the entirety of The Swamps over at Spin.